Invisalign Straight Teeth. No Braces. in Bangkok Thailand
WHAT is INVISALIGN?
Now nearly everyone who needs straighter teeth can be treated with Invisalign
Get the beautiful smile you've always wanted
Invisalign is the invisible way to straighten teeth using a series of custom-made, nearly undetectable aligners. Whether your teeth are crowded, too far apart or have shifted since wearing braces, you'll have a new reason to smile.

The latest technology makes it possible
Upon an initial examination, your accredited orthodontist decides if Invisalign is right for you. Your doctor will write a treatment plan and take an impression of your teeth, which are submitted to Invisalign. Using the latest advances in 3-D computer technology, Invisalign carefully translates your doctor's instructions into series of precisely customized aligners. You then wear each set of aligners for about two weeks, moving your teeth gradually — week by week, millimeter by millimeter — until you've achieved the intended result: straighter teeth.
Generally, you visit your doctor no more often than you would with braces and the length of treatment is about the same.
No braces. Nothing to hold you back
Because there are no metal wires and brackets, Invisalign is comfortable. And because it's removable, eating, brushing and flossing are no problem. You can still enjoy your favorite foods and smile without holding back. With Invisalign, there's nothing to hide.
How does Invisalign compare with other invisible orthodontic systems?
Look at the chart below to see how Invisalign compares to other treatment options. This Invisalign comparison chart is clearly evident that Invisalign outperforms other aligners. When it comes to creating beautiful smiles, Invisalign is the clear winner.
| | | | |
| --- | --- | --- | --- |
| How it work? | INVISALIGN | METAL BRACES | VENEERS |
| | Invisalign uses a series of clear removable aligners to straighten your teeth without metal wires or brackets. | Metal braces use wires and brackets to pressure your teeth into straighter alignment. | Laminates that are bonded to teeth to cover up imperfections. |
| Invisible | Yes | No | N/A |
| Removable | Yes | No | N/A |
| Comfortable | Yes | No | N/A |
| No metal or brackets to irritate your mouth | Yes | No | N/A |
| Does not require grinding to remove tooth enamel | Yes | Yes | No |
| Does not require costly replacement | Yes | N/A | No |
| Able to brush and floss normally during treatment | Yes | No | N/A |
Proven results behind great smiles
In both clinical research and in dental practices throughout North America, Invisalign has been proven effective at straightening teeth. And with many orthodontists across Thailand trained to treat their patients with Invisalign, you can be assured of finding a doctor who's right for you.
Our specialized Invisalign Doctor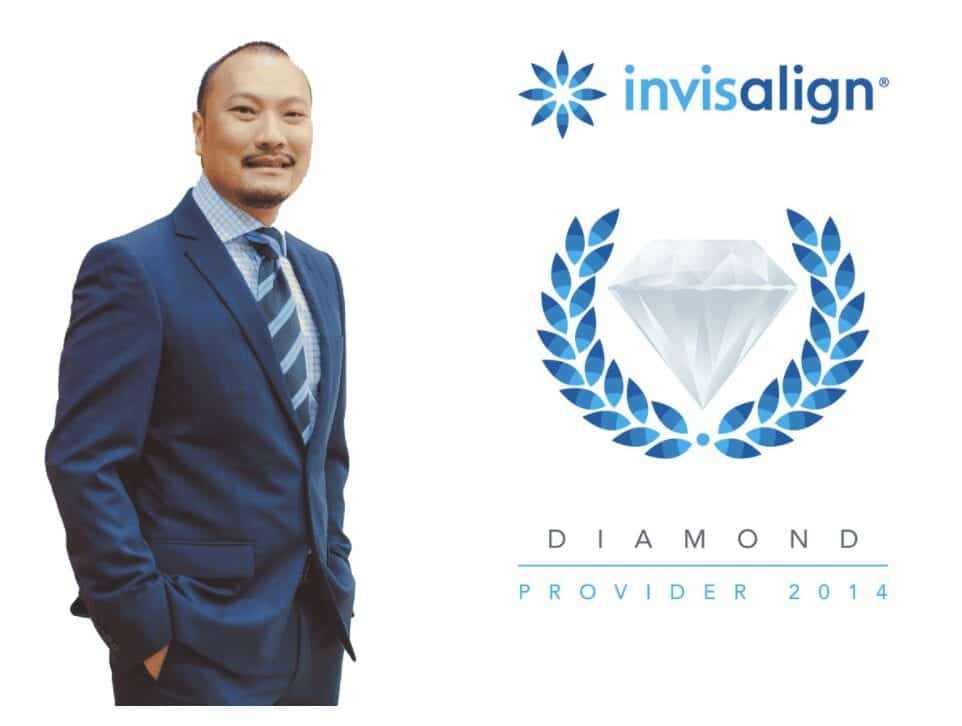 DR. THITI SIRIKRAI, known by his patients as Dr. Ken, obtained his dental degree from Chulalongkorn University in 1996, Certificate in Clinical Orthodontics and Master of Science in Orthodontics with Distinction from Saint Louis University, Missouri, USA in 2000. He conducted an original research on the topics of A Comparative Evaluation of Frictional Resistances in Low-Nickel Orthodontic Appliances for his Master Thesis and had given a poster presentation in the Annual Meeting of the International Association for Dental Research in Washington DC in the year 2000. Dr.Sirikrai also achieved a Certificate of Lingual Orthodontics from Asian Gorman Institute in Taipei, Taiwan in 2001. Since graduation, he has been a guest lecturer in Biomechanics and Invisalign Technology for Postgraduate Orthodontic students at Chulalongkorn University and Mahidol University, and has published his original article in the Journal of the Thai Association of Orthodontists.
DR. THITI SIRIKRAI is a member of the American Association of Orthodontists, World Federation of Orthodontists, Orthodontic Education and Research Foundation, Thai Association of Orthodontists, and Siam Lingual Orthodontics Society. In 2002, he became an accredited Invisalign provider and then began his first Invisalign case that year. Since 2000, Dr.Sirikrai has been practicing various modalities of orthodontic treatment including Lingual Orthodontics, Self-Ligating Orthodontic appliances, Functional appliances, and to date, has done over 700 Invisalign cases. From 2003-2006, he has been involved with Invisalign Technology distribution in Thailand and has organized Invisalign Certification courses for Thai orthodontists in April 2003 and March 2005 accordingly. In 2007, he was American Board certified and became a diplomate of ABO until 2012. In 2007, Dr.Sirikrai was appointed an Invisalign lecturer for the Southeast Asia Region and has delivered Invisalign Certification Programs in the Philippines and Vietnam. In 2011, Dr. Sirikrai, one and only doctor from Thailand, was invited to join the lecturer team for 2011 Asia – Pacific Invisalign Forum in Phuket, Thailand. Now Dr.Sirikrai serves as Associate Clinical Director at Thantakit International Dental Center, his family own private practice since 1945. He is currently an Invisalign Platinum Elite Provider.
Please find out more information at www.invisalignbangkok.com
Frequently Asked Questions and Answers
Q: How does Invisalign work?
A: Using the latest advances in 3-D computer technology, Invisalign translates your doctor's instructions into a series of nearly undetectable aligners. You wear each set of aligners for about two weeks, moving your teeth millimeter by millimeter until you've achieved the desired result.
Q: Is Invisalign effective?
A: Thousands of doctors are treating patients with Invisalign. It works for a wide range of people whose teeth are too crowded or have spaces between them, as well as for those whose teeth may have shifted after having worn braces in their youth.
Q: How often will I have to wear my aligners?
A: Invisalign only works while you're wearing the aligners. It's recommended that you wear your aligners full-time, day and night, except to eat, brush and floss your teeth — or as directed by your doctor.
Q: How long does Invisalign take?
A: The duration of treatment depends on the severity of your case, which determines the number of aligners you need. However, the average is about 12 months, but only your orthodontist can determine the length of your treatment.
Q: How much does Invisalign cost?
A: As with traditional braces, the cost will be based on the complexity of your case and the length of treatment. Invisalign cost only slightly more than braces and third party finance may also be available to spread the cost over several years. If your dental insurance plan covers traditional braces, it will typically cover Invisalign to the same extent.