Dental veneers are jackets you can slip unto your teeth to give them a cleaner, more even appearance. They're usually made of thin porcelain pieces used to recreate the natural look of your teeth in case they've become chipped, broken, and otherwise extensively damaged. Also, as opposed to crowns, you don't need to significantly chip them further to fit them in.
Veneer Consultation
You should visit an American Association of Cosmetic Dentistry (AACD) member dentist when availing of veneers. This certified expert will assist you in determining which veneer option suits you best. He'll also inform you in case there are alternative dental restoration solutions available to you.
Communicating with your dentist about which teeth you want corrected and/or restored is crucial in getting a successful and satisfactory result. Spend as much time as needed when it comes to identifying which cosmetic improvements you should acquire. Veneers essentially assist in getting picture-perfect teeth in a much faster time than braces can and in a less painful way than a dental bridge or implant would.
The Multitude of Veneer Benefits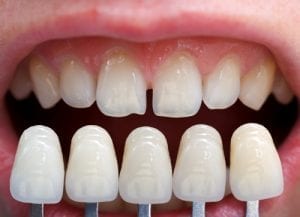 Every veneer is sculpted in accordance to the unique dental requirements of every patient, thus ensuring a custom fit every time. What's more, they don't look fake when compared to, for example, false teeth or dentures. It's quite impossible to tell the difference between veneers and real teeth at first glance. That's the main benefit you could get from a veneer; it practically looks like a natural tooth.
It's even as tough as one to boot when you consider the strength and resiliency of porcelain, particularly when it comes to chewing and masticating food with the amount of biting force a typical human has. Furthermore, custom-made porcelain veneers are known to resist tea and coffee stains as well as cigarette smoke.
Porcelain Composition and More
The dental veneer is the more natural way to restore tooth function while improving the appearance of the original tooth for good measure. What's more, porcelain is the material of choice because they provide resilience and strength that's comparable to natural tooth enamel. Veneers can also help with making slight position alterations as well as changing the color, size, and shape of every single imperfect tooth.
In regards to the bond between the porcelain veneer and the original tooth, it's quite important in not only the aesthetic sense but also function-wise. You might as well have removable dentures if your veneer pops out of your tooth because of a less-than-perfect bond between it and the tooth it's supposed to cover up. This is why it makes use of light-sensitive resin to serve as the medium that sticks both the tooth and the veneer together.
The Hows and Whys of Porcelain Veneers
Instead of availing of expensive in-office, dentist-supervised laser teeth whitening methods, you can acquire veneers to make even your darkest tooth that's resistant to traditional whitening techniques appear pearly white. This is because porcelain laminate veneers are basically a compilation of several thin ceramic layers that replace tooth enamel. They're stuck into the tooth care of an adhesive layer.
When it comes to veneer applications, there's a need to remove a small amount of the original tooth enamel (much less enamel when compared to fitting in crowns; about less than a millimeter, to be specific). This is required because your teeth would look huge if it were fitted with a veneer without removing at least part of the tooth to make it a snugger, tighter application.
Lean more about veneers here.
Thantakit International Dental Center is Thailand's longest established dental center. Situated in Bangkok, our clinic is renowned across the world as a destination for world-class dentistry, with most of our patients flying to us from Australia.
Please contact us today and get a FREE dental consultation.