When choosing where to have your dental implant procedure performed, you should look at the treatment as a long-term investment of sorts. If you want to get it affordably, then don't go to the cheapest clinic you can find at a dank and dirty area with questionable hygienic practices.
The Dental Tourism Route
Just like with ecommerce somehow finding a way to deliver to you quality goods at the fraction of their retail store price without having to compromise on their integrity and dependability in the least, you can also find an inexpensive yet worthwhile dental clinic for implants—and it's usually found abroad.
If you feel wary about traveling to far-flung places like Southeast Asia or East Asia just to get an implant, then you can turn it into a vacation of sorts to make your travel time more worthwhile. When choosing where to have your dental implants while at the same time minding the cost, then you have the option to go to an accredited, international-grade dental clinic in someplace like Thailand so that you can avail of the whole nine yards of dental treatments.
Erring on the Side of Caution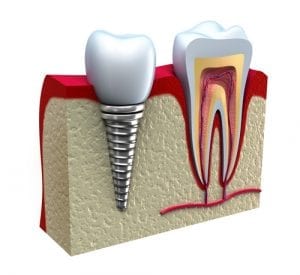 If you instead want to err on the side of caution and you have enough money (or a dental insurance plan) to back you up on your dental implant needs, then you should search for a credentialed implant dentist in accordance to your locality's credential-giving body. Naturally, you want to have the best dentist possible to take care of this procedure.
Your dentist should have a license to practice issued by the city and a certificate that proves he's a true dental professional. Some dentists learned how to do dental implants through a weekend course while others attended short training programs. You should look for either specialists or experts listed on, for example, the American Academy of Implant Dentistry (AAID).
Stringent Requirements with AAID Credential
An AAID-certified dentist has more than just a badge of honor attached to his name or wall. He is also someone you can trust with your dental implant procedure (which, by the way, requires minor surgery since the dentist will be cutting through gum in order to access your jawbone, which is where the implant will be placed).
To get the AAID credential means to have a dentist that has earned his keep and has undergone extensive education, training, examination, and demonstration of competency in the realm of implant dentistry. He has gone through the most stringent of requirements and has now become a true pro in terms of placing metal studs in your jawbone in order to act as artificial tooth roots for your crown.
What to Expect in Dental Implant Procedures
The place where you want your procedure to take place is tied with the expertise of the dentist who owns the clinic. Usually, the more hygienic and spacious a clinic is at your own locality or through an international clinic abroad that you can access through dental tourism, the better your chances at getting dental services you can truly trust.
To have an affordable but low-grade implantation procedure is a waste of money. You might as well burn a wad of cash or throw it off a bridge. However, you can't go too expensive either at some ritzy, air-conditioned clinic since you probably have bills to pay or student loans to settle. You need to find a balance between the two extremes.
If you're looking for inexpensive and high quality dental implants in Bangkok, Thailand, please check out our dental implants services.
Thantakit International Dental Center is Thailand's longest established dental center. Situated in Bangkok, our clinic is renowned across the world as a destination for world-class dentistry, with most of our patients flying to us from Australia.
Please contact us today and get a FREE dental consultation.