There are a multitude of tooth or teeth whitening systems available. Some include dental whitening products like trays, strips, and rinses from your dentist or over-the-counter toothpastes and gels you can acquire without a prescription. If you have unrestored yet healthy teeth, then teeth whitening is the ideal solution for you. However, it's not for everyone.
Only certain people should have it and there are procedures that could result in some irreversible side effects, like teeth sensitivity after undergoing a laser whitening procedure. This is why people who have teeth extracted or have molars with fillings are discouraged from undergoing certain teeth whitening techniques. The one you pick will depend on how bad your dental situation is or if you're even allowed high-grade in-office dental bleaching.
Toothpaste and Whitening Agents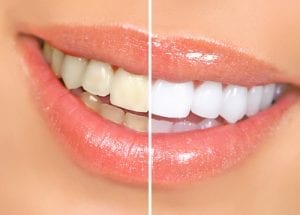 If you're an individual with healthy teeth that are a bit on the yellow side, then you will respond well to tooth whitening treatments. Regardless, you should consult your current dentist to determine if you're eligible for this cosmetic procedure. The foremost and most accessible teeth whitening tool is toothpaste. This is probably the cheapest form of teeth whitening available that's highly recommended for anyone who lacks money or dental insurance plans.
Toothpastes contain mild abrasives that could polish your teeth to perfect whiteness. This allows them to strip away surface stains, although it's always best to brush your teeth regularly in order to keep food particles and film to accumulate and harden atop your pearly whites, turning into outright plaque. There are also OTC whitening products available containing hydrogen peroxide or carbamide peroxide that help lighten your teeth color altogether.
Over-the-Counter Peroxide Strips, Gels, or Rinses
You can also make use of peroxide-based gels that you apply with a small brush in order to whiten your teeth. You're supposed to leave them on your teeth, but instructions will vary in regards to how long depending on the strength of the peroxide. Strips, on the other hand, are thin tapes coated with whitening gel that are applied to your teeth twice every day for 30 minutes and for two weeks.
Expect to sustain the results for about four months till you need to purchase these peroxide products again. As for whitening rinses, they double as mouthwash that freshen up your breath and significantly reduce gum disease and dental plaque. Just swish the substance around your mouth for 60 seconds twice a day to whiten your teeth. It's less effective than strips and gels because of the short amount of contact time, though.
At-Home versus Dentist-Supervised Whitening
Again, avail of this method only if you're eligible for it and you've never had fillings or extractions on any of your teeth. In-office bleaching (a type of dentist-supervised whitening) is perhaps the quickest way for you to whiten your teeth. The dentist essentially applies the whitening product directly to your teeth and they're used with a combination of a laser, a special light, or a heat lamp. It also comes with the caveat that this is the most expensive cosmetic dental procedure available.
You can acquire dramatic results in only one treatment that takes 30 to 60 minutes to accomplish. You can achieve whiter teeth after the very first procedure and get even better whiteness the more appointments you make. At any rate, it's highly recommended that you get dentist-supervised whitening services in case your teeth are in dire need of whitening. Go with DIY methods if in-office methods aren't available or allowed for your teeth.
Thantakit International Dental Center is Thailand's longest established dental center. Situated in Bangkok, our clinic is renowned across the world as a destination for world-class dentistry, with most of our patients flying to us from Australia.
Please contact us today and get a FREE dental consultation.