More and more people are going to the Thantakit Dental Center in order to have a cost-effective wellness vacation that hits two birds with one stone. When availing of a dental tourism package to Thantakit, you'll get to have work done to improve your smile and your ability to use your teeth and jaw. Then you have an opportunity to flash your winning smile as you relax and unwind in beautiful Thailand. It's a vacation and a means to give you a Hollywood-tier smile in one travel package.
With that said, when you book an appointment with the center, you'll also be booked at a stay at 1 of 7 fabulous hotels. Which one of these will suit your tastes? Read more to find out. Here are the 7 hotels partnered with Thantakit with their own respective features and benefits.


The Avani Atrium Hotel is a nearby Thantakit partner hotel found in the heart of the city of Bangkok. Its address is 1880 New Petchburi Road, Bangkok 10310 Thailand. It gives you easy access to anything within the metropolis whether you're visiting Thailand for business or pleasure. In the case of getting work done for dental tourism, it's mostly a case of the best of both worlds.
Price: Avani Atrium offers its Premier rooms for ฿2,000, its Deluxe rooms for ฿2,300, and its Executive rooms for ฿3,000. It's a hotel with 568 suites and rooms where everything is easily available at hand so as to ensure that you're getting your money's worth when all is said and done, as you'll see in the entries below.
Travel: Traveling to and fro the hotel is easy, particularly when it comes to keeping up with your appointments to the clinic. In particular, you'll get complimentary shuttle service from the MRT stations and Airport Rail Link whenever available. Furthermore, the complimentary shuttle service to all the nearest shopping areas comes by hourly to boot.
Fine Dining: In regards to the food, the Avani Atrium is home to the iconic Japanese steakhouse known as the Benihana. If that's not enough, there's easy access to other restaurants, bars, canteens, and eateries all over Bangkok care of the hotel's expressway access to Pattaya, both airports, and many parts of the city, especially if you want to check out the Bangkok nightlife.
Maven Stylish Hotel Bangkok


The Maven Stylish Hotel Bangkok is a 4-star hotel that doesn't only live up to its name as being a stylish and luxurious Bangkok hotel; it's also quite nearby the Thantakit Clinic by being opposite the dental building altogether. It comes with a fantastic fine dining restaurant and 70 rooms and suites that are filled to the gills with amenities galore.
Price: Its Superior Room costs ฿1,800 and its Junior Suite costs ฿3,000. You get what you pay for with the stylish hotel that's named as such in light of patron feedback in regards to its most defining trait. Its ambiance, stylishness, and high-grade services under a unique design sensibility will mesmerize you when push comes to shove.
Travel: First thing's first, it's probably the nearest partner hotel of Thantakit, so it's worthwhile to stay there just for the convenience of its inclusion in your dental tourism package. What's more, it's near the MRT or public taxis so that you can easily access the nearby touristy venues of the Show DC Complex, Central Plaza Grand Rama 9, Korean Town, Terminal 21 Shopping Mall, EmQuarter & Emporium, and much more.
Fine Dining: The hotel itself has delicious room service along with the Free Wi-Fi Internet access in-room and in public spaces, a fitness center, rooftop swimming pool, and much more. Or you can dine with the nearby fine dining restaurant within the property then go off-site to one of many malls for a night of gastronomical delights and Bangkok nightlife pleasure.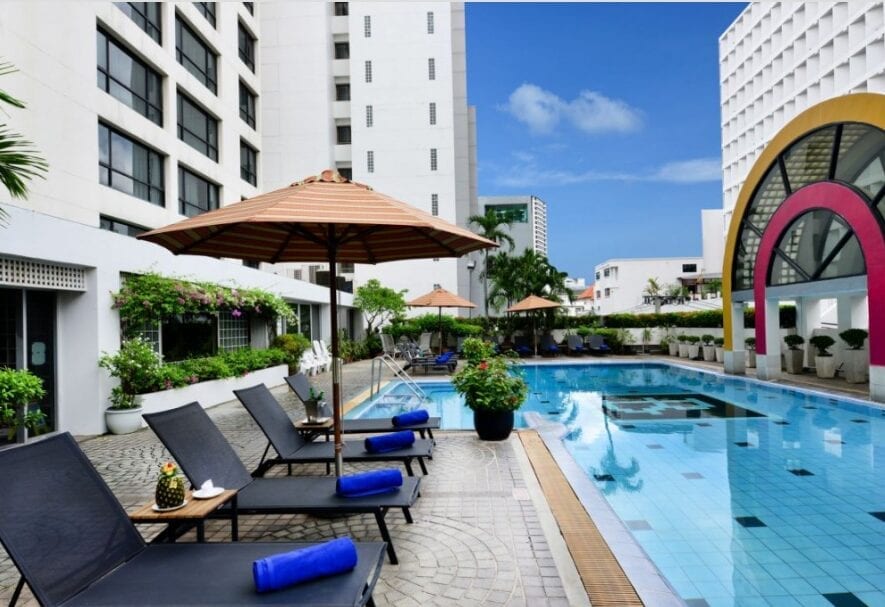 As for the Belaire Hotel Bangkok, this Thantakit partner hotel located on Shukhumvit Road that provides a contemporary feel of expedience because of its 154 rooms and the fact that it's surrounded by all the best things that city life has to offer. Single travelers, business executives, and families alike will enjoy the relaxed luxury that Belair Bangkok has to offer.
Price: The price for the rooms and suites of the Belaire Hotel Bangkok will vary depending on promos, discounts, or even the decided rates of the hotel. For example, you can avail of a Superior for ฿2,100 or ฿2,300 and a Deluxe ฿2,400 or ฿2,600. Check with the website for the latest rates since it might fluctuate in accordance to whether it's an off season or peak season.
Travel: Belaire has a prime location that places you within walking distance to the skytrain, which in turn opens up a whole new world of Bangkok City benefits and tourist attractions such as numerous railway connections to entertainment centers, fine dining restaurants, shopping malls, corporate offices, international airports, and the Bumungrad Hospital as well as (of course) the Thantakit Dental Clinic.
Fine Dining: Aside from impeccably scrumptious and hospitable room service, the hotel also provides access to various food and drink options at the Liquid Lounge, the Tiffin Restaurant, and the Blue Poolside Bar. If that's not enough, you can always travel outside and have a food trip all over Bangkok to your heart's content since the city has eateries and bars galore.
The Galleria 10 Hotel by Compass Hospitality has all of its best offerings nearby at its building itself to maximize cost-effectiveness and give you more than you bargained for in terms of comfort. This proud Thantakit partner hotel is one of Sukhumvit's finest 4-star boutique hotels located within the core of Bangkok City.
Price: Here are the different prices for the different rooms and suites of Galleria 10. The Deluxe Chill costs ฿2,000, the Premier Hip costs ฿2,500, the Premier Deck costs ฿2,700, and the Galleria Club costs ฿2,900. On top of the rooms and the complete amenities you'd expect from a 4-star hotel, there's also the décor that boasts a blend of retro and modern style fused into something current yet nostalgic.
Travel: Traveling around Bangkok is easy when staying at Galleria 10 because the hotel is located at Sukhumvit, which is a primary business district of Bangkok that also doubles as a shopping district and entertainment district. It has it all for you, the weary traveler, as you go about the motions of getting a better smile cosmetically and functionally at the Thantakit Clinic.
Fine Dining: You won't be disappointed with Galleria 10 fine dining either. It has The Leapfrog Bar and Grill, which is the coolest rooftop bar in Bangkok. What's more, there's a fine Japanese restaurant at the ground floor and an international menu of eateries at the streets below. The hotel even comes complete with tea & coffee facilities to complement its robust restaurant options.
As for the Galleria 12 Hotel, it's yet another hotel you can easily have a vacation at or around before and after your visit to the clinic to get some cosmetic or functional dental work done. Convenience is the name of the game for this hotel, and it epitomizes streamlined expediency by having a sleek design and vibrant color scheme inside and outside its building.
Price: The prices for the Galleria 12 Hotel's rooms and suites are as follows. You can get Slender for ฿1,700, Cool for ฿1,800, Studio G for ฿2,200, and Suite G for ฿2,400. The Sukhumvit Soi 12 hotel is also suitable for business and leisure travelers as expressed by its modern and professional yet entertainingly creative rooms.
Travel: This is yet another business and leisure hotel that features superior accessibility across the streets of Bangkok, this time through its Sukhumvit Soi 12 location. This means you can easily access taxis, MRTs, or walk across the street in order to enjoy the Bangkok dining, shopping, and entertainment districts.
Fine Dining: You're also filled with fine dining options such as the Tabloid Bar & Bistro that serves as an earl buffet breakfast while also providing an international menu all throughout the day so that you can taste both the flavors of Thailand and the world. You can also opt for vegetarian or vegan options as well as local snacks and treats to boot. Or you can go across the street for access to other restaurants.
As for the Grand President Hotel, it's backed by the renowned Kingston Hotels Group or KHG, which has the motto of believing in the power of more. This is reflected by its multitude of room options with all sorts of amenities that are both amusing and practical. These suites and rooms are even more varied than all the previous hotels combined. What more can you ask for?
Price: There are varying listings when it comes to the prices of its different rooms, which includes the Deluxe, Deluxe Premium, Park Suite Junior Suite, Junior Premium Suite, and Deluxe Suite. Check the hotel's website for more details. However, like many other Thantakit partner hotels, the prices don't stray far from the ฿2,000 to ฿3,000 range.
Travel: Here's another hotel that's strategically located in Bangkok and from Thantakit, this time found at Sukhumvit Soi 11. Its perfect location allows you to get to the BTS Nana Station within 5 minutes, providing you instant access to the Bumrungrad International Hospital and various other medical centers, embassies, entertainment areas, prime shopping malls, and the Bangkok central business district.
Fine Dining: You can either eat at the Grand President Hotel's multiple restaurant and bar options around the area or you can go travel to the BTS Nana in order to try out a wider array of eateries. This will then expand your palate and then some for the sake of savoring the many delicious flavors of Bangkok as well as international menus if you so choose.
The 4-star Admiral Suites Hotel and its 62 rooms should also keep you close to a myriad of cultural attractions and business centers galore as you get some dental work done at Thantakit. It also prides itself for giving you more bang for your buck, which explains why it has four types of Wi-Fi-enabled rooms with LCD TVs and Kitchenettes.
Price: For ฿2,000 to ฿3,000, you can avail of Superior, Deluxe Studio, Executive Suite, and Admiral Suite options. If you wish to learn more about the serviced apartment hotel's specific prices, go to its website specifically. You can also avail of promos that should make your dental tourism stay there even more cost-effective.
Travel: Admiral Suites Bangkok is located in Soi 22 of Sukhumvit Road. This means you have access to a number of popular entertainment venues, fine dining restaurants, and shopping centers all over Bangkok that's just a trot, a train ride, or a taxi away. You can go to places like the Emporium Shopping Mall, Emquartier Shopping Mall, and so forth. You can go even further by riding the Phrom-Phong BTS Skytrain.
Fine Dining: As far as popular dining is concerned, the New York Steakhouse and Ruen Mallika Royal Thai Cuisine are nearby the hotel. This gives you the best of both worlds in terms of local Thai menus and something more international (or familiar if you're a New York resident). You can even savor some liquor at nearby bars of at the Wine Depot.
The Bottom Line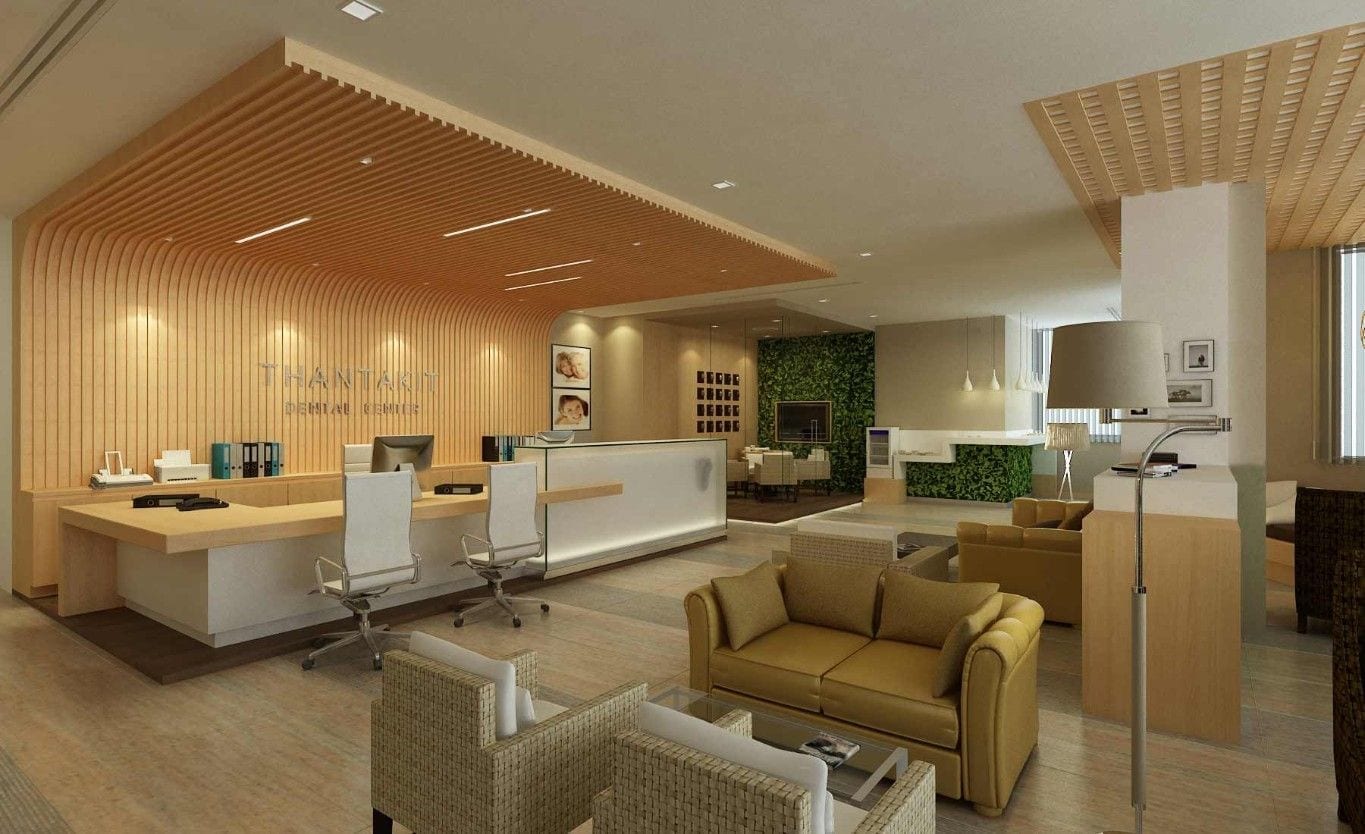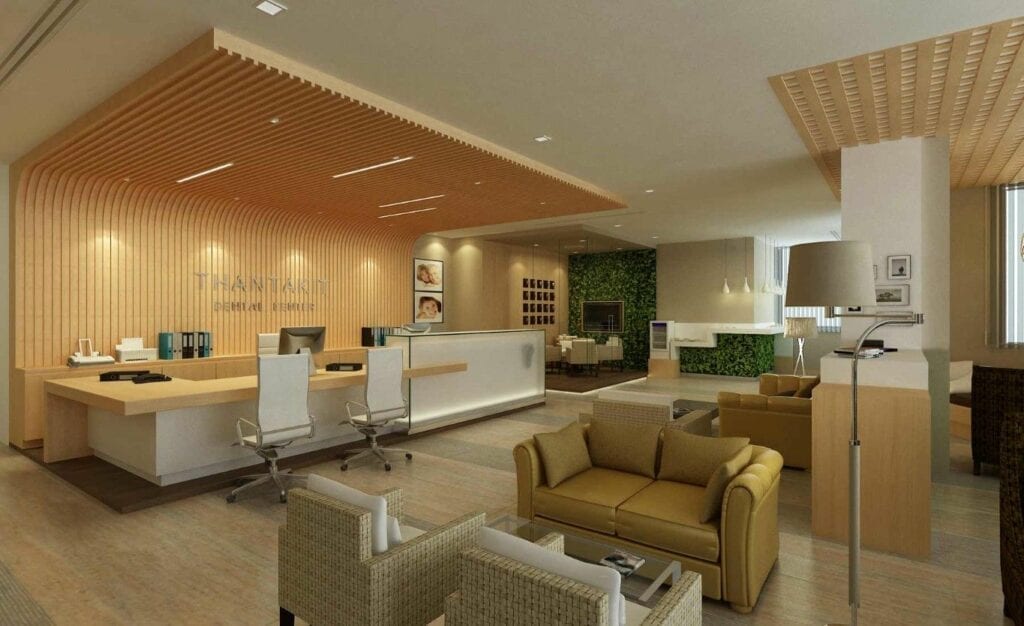 The Thantakit Dental Center is renowned all over the world for its international-grade dentists and its welcoming amenities. It's been in business for 70 years since the Second World War in 1945. Its 3rd generation owner and dentist has also partnered with the best hotels within the area in order to make sure that his family business thrives in this era of dental and medical tourism.
Therefore, in case you're dealing with a multi-visit procedure, you'll have somewhere swanky and luxurious to stay at without you taking the trouble to book a hotel. You'll also get the opportunity to see the sights and sounds of Thailand while staying there so that your wellness vacation feels more like a vacation too instead of just a dental visit from a faraway land. It's a visit you won't soon forget for all the right reasons, which isn't something you'd normally say about a visit to the dentist!
Thantakit International Dental Center is Thailand's longest established dental center. Situated in Bangkok, our clinic is renowned across the world as a destination for world-class dentistry, with most of our patients flying to us from Australia.
Please contact us today and get a FREE dental consultation.