What are All-on-4, All-on-6, and All-on-8 dental implants? They're implants you can use to replace your missing teeth if you have most or all of your teeth missing. Dental implants are your permanent solution for tooth loss aside from using a bridge between two remaining natural teeth serving as its anchors. The implants serves as the anchors for the dental bridges that you can connect together to form a row or rows of prosthetic teeth that function pretty much the same as regular teeth.
In regards to which one you should choose, there's no wrong answer or decision to be made. It's up to you and how many implants you can afford. It also depends on the topography of your mouth, like how many natural teeth remain and whatnot. All-on-8 is best used when you no more teeth left, which gives the dentist more leeway in placing the implants. However, it does help to still have some teeth left for extra leverage or foundation.
Differences and Functions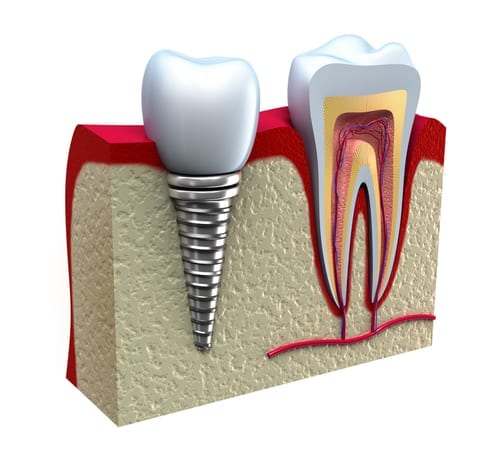 Long story short, all-on dental implant solutions are dental treatments you can use to assist the reconstruction of your missing teeth that you've lost from one or both jaws. Unlike traditional false teeth, they make your prosthetic teeth permanent and non-detachable, thus your dentition, smile, and bite are all fixed at the same time. At any rate, at the Thantakit Clinic, you can avail of All-on-4, All-on-5, and All-on-6 dental implant solutions instead using Korean, BioHorizons, Nobel Biocare, and ITI Straumann implant technology.
It's the more economical and practical method of putting back all your missing teeth without going the more expensive and painful route of giving every empty tooth socket its own dental implant and individual crown. In other words:
The Major Differences: The major differences of All-on-4, All-on-6, and All-on-8 dental implants are found right on the numbers on their names. They refer to the number of implants that will be strategically placed on the top and/or bottom jaws. Another major difference between all-on implants and natural teeth, of course, is the fact that you have to floss them differently than actual real teeth.
In particular, the gaps between suspended false teeth just above the gums with missing teeth are different. Furthermore, the pressure is distributed to the implants and jaw more evenly when you have more implants included. It's like how a table is more stable when it has more table legs evenly distributed across its body. The more implants you have the more stable your permanent dentures will be.
The More The Merrier: All-on4 implants use 4 implants, 2 on the upper jaw or maxillary jaw and 2 on the lower jaw or mandibular jaw, in order to connect 4 rows of dental bridges together. All-on-6 implants an extra 2 implants to make the anchorage for the dental bridges to be tighter and more solid. Meanwhile, All-on-8 dental implants offer probably the maximum amount of implants needed for restructuring your mouth and filling in all the missing teeth.
The job of implants is to simulate the pressure applied to them by teeth. An implant or two with a crown or bridge atop them are much closer to permanent natural teeth in terms of function and feeling compared to prosthetic teeth. The name "all-on" roots from how the complete bridge that covers a whole row of teeth is attached to 4-8 implants depending on the elected procedure. Watch out though—the more implants are involved the more expensive it gets.
What to Expect from All-On Dental Solutions
The main thing you can expect from all-on dental solutions is multiple dental implant surgeries. Some clinics, like Thantakit, actually offer same-day implant and crown placement using state-of-the-art technology so that you won't have to wait two weeks or even a week in order to get your complete set of new prosthetic teeth bridges and crowns. In other words, you can expect the following things to happen when you go the all-on route towards dentition restoration:
Firm Jaw Integration: First off, implants are integrated into the jaw. This entails cutting the gums on the area where the missing tooth used to be then drilling the implant right into the tooth socket. The gums are then stitched together and allowed to heal. Afterwards, an abutment is placed on the visible portion of the implant, allowing an easier and more solid placement of the dental bridges when push comes to shove. Although you can't grow your lost permanent teeth back, this is the next best thing to replacing them accurately.
It Can Be Used with Natural Teeth: You can have fewer than 4 in case there are still natural teeth left you can shave off and turn into an abutment for your dental bridges, thus you can save money when putting in your permanent false teeth on your mouth. As for the advantages, this dental treatment doesn't only make it look like you still have a natural set of teeth. These porcelain crowns and bridges also function pretty much like your natural teeth compared to ordinary dental prosthesis.
Why Bother with The All-On Treatment? The reason why dentists recommend the all-on procedure and its variants because they serve as effective solutions for those who have a large amount of missing teeth in the maxillary or mandibular jaw. It's also the best way to deal with complete toothlessness versus having false teeth. When most of your teeth have been lost, your best bet in having stable dentures that act the closest to natural teeth when compared to traditional false teeth is the all-on treatment.
Removable Prostheses Aren't Necessary: It isn't necessary to have removable or temporary prostheses with implant dentistry because in many cases long-term prosthetics can be fixed within a few days. Furthermore, using all-on allows you to get firm teeth that don't only look natural but feel and function like real teeth with a stable bite. They're even in many ways better than natural teeth because once the crown or bridge breaks, you can simply attach new ones in a snap.
Why Not More Than 8 Implants? With the all-on procedure, it's like having 4-8 roots that go into your jaw while the rest of the teeth hang right above the gums. Thus, when flossing, you need a special type of floss to clean the new unusual gaps between the prosthetic teeth hanging above the gums. There's no need to spend money on implants for every last tooth. Any remaining teeth you have can serve as posts that will reduce the amount of implants needed for your complete row of teeth.
Past Implantation Required More Implants: In the past, implant dentistry required more implants in order to replace a whole row of teeth or a whole dentition. It can also include transplanting a jawbone and required a healing time of 6 to 9 months before the implants could have dentures like crowns or bridges placed atop them. It was characterized by the pain of surgery, the lengthiness of healing, and the impact it has on your finances. Temporary dentures can also be installed until the final denture is made at the dental lab within a week or up to 3 months.
A Single Surgery for All Your Dentition Needs: Instead of making implant surgeries one after another, the all-on solution enables the dentist to rehabilitate all the teeth on your maxillary and mandibular jaws with only one oral surgery instead of multiple ones. There are 4-8 implants involved and a fixed bridge if there's no need for bone augmentation. Furthermore, depth, angle, and distance are determined as the implants are placed in the jaw.
Which All-On Treatment Do You Need? Should you get the cheapest package or the most expensive one? Do you even need 8 implants or will 2 suffice according to the state of your mouth and remaining teeth? Consult your doctor which one is best for your specific mouth and which one you can afford. There's no universal answer that suits all patients. It depends on your situation and sometimes your best bet is to get removable dentures because you're too old to undergo this type of surgery.
Preferred Affordable Dental Solution: The All-on-4 option is the preferred solution by many implant candidates lacking most (if not all) of their teeth. This is because it's the most affordable and like most tables, having four posts or legs is enough to make for a stable structure. After much experimentation in the past, dentists found out that a minimum of 4 implants (or less if you have a few natural teeth left available for shaving) are needed to get the same level of stability and strength found in natural permanent teeth.
If You Have Money to Burn: Going All-on-5 and All-on-6 (which are available in Thantakit) or even All-on-8 (which isn't available in Thantakit) serves as an extra precaution that enables more stability with your bridge structure. Some bridges can even be supported with just one tooth or implant even (the cantilever dental bridge, named after the concrete bridge of the same name). However, if you can afford to go for all 5 to 8 implants then you're assured of more bone strength and structural integrity by default.
How Does the Treatment Work with the All-On Technique?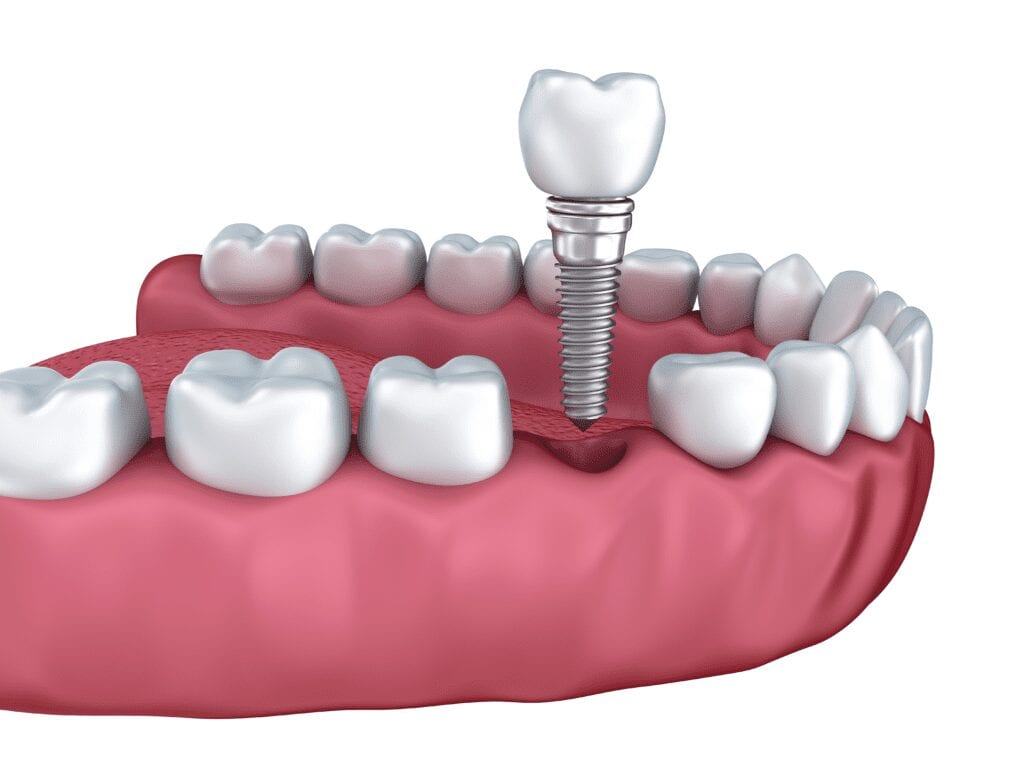 Prior to getting the all-on treatment, you'll first undergo a CT scan, dental x-ray, or digital scan. You might also get a dental mold to help the dental bridge designers to make the most perfectly shaped bridge or bridges for your particular mouth and set of remaining teeth. A digital scan has the advantage of allowing the dental lab worker to accurately design via computer or CAD (computer-assisted design) a 3D representation of the final bridge, which can then be 3D printed then placed in your mouth post-haste.
Implantation: After being consulted personally, you'll get an appointment for oral surgery. This is the day when the implants are installed. At the Thantakit Clinic, you will be put under general anesthesia to make the operation painless.
4 Days Later: 4 days later, the finished temporary bridge will be attached to the implants. This is unless you availed of the 1-day course where the bridge is attached on the healing implants on the same day. For the standard course, a temporary prosthesis or fixed bridge will be made after implantation.
It's through these temporary teeth that you can optimally return to your former lifestyle. You can eat and chew normally once more. You also won't have to eat baby food because you don't have your final bridge yet and you can get a temporary smile that looks almost as good as the smile you'll get in the future.
3 Months Later: Sometimes, as soon as 3 months, your temporary false teeth are replaced with the final bridge. It's around this time that your bone has healed enough to really grab hold of the implants, allowing the final prosthetic bridge to be attached to the metal posts.
Regular Checkup and Oral Hygiene: After the treatment is over, you should go have a checkup with the Thantakit Clinic or your local dentist every 6 months to receive dental hygiene treatment. As soon as you're given your final bridge, the dentist who did the procedure will teach you how to floss it using a specially designed floss.
When Are All-On Dental Solutions Recommended?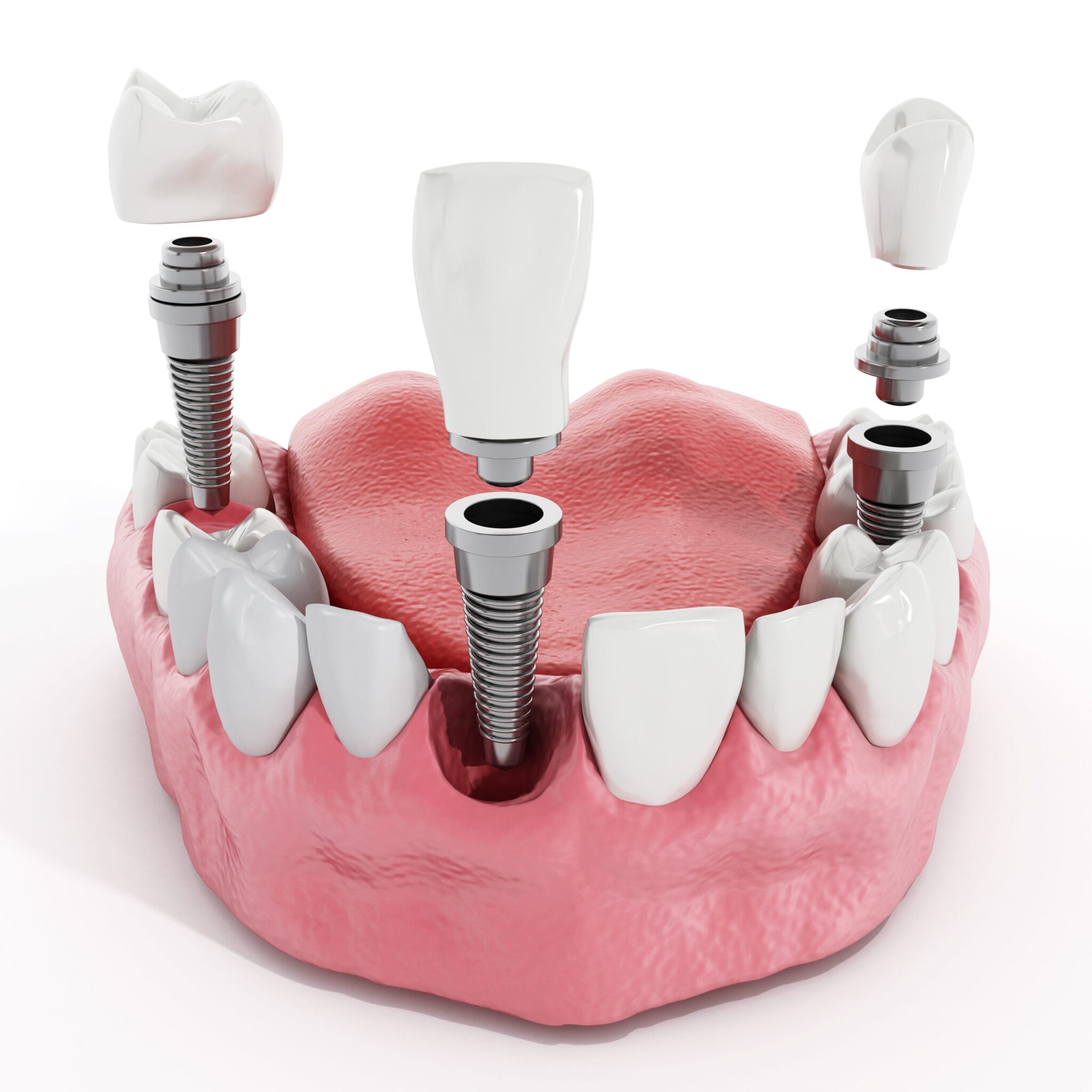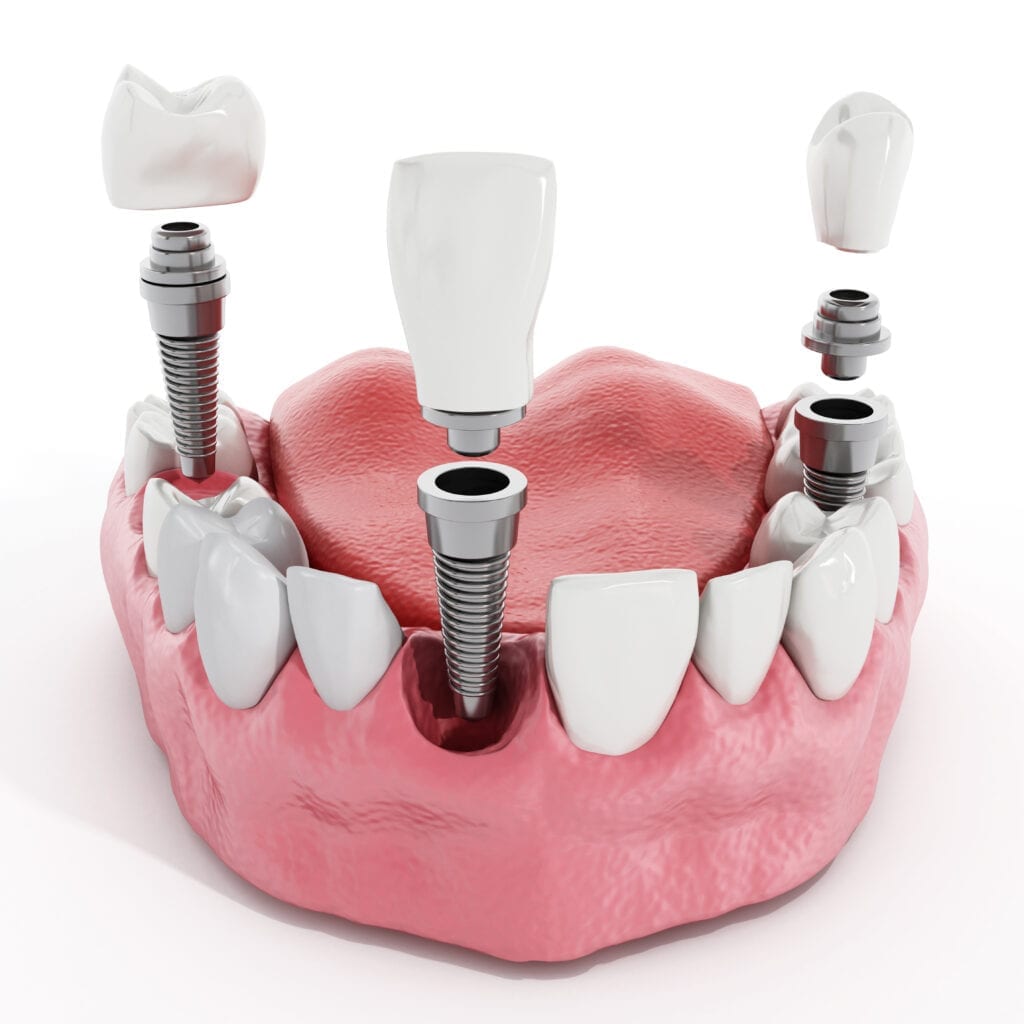 Thanks to All-on-4, All-on-5, All-on-6, and All-on-8 implant solutions, you won't have to deal with long healing times and multiple implantations. Can you imagine doing 32 implants and placing 32 crowns over them? Not only is this impractical; it's also incredibly painful and your suffering can extend for the length of time it takes a baby to develop from conception to birth. Not to mention prohibitively expensive. Furthermore, it uses 3D printing and digital scanning that makes it possible for you to have same-day implantation so that you don't need to make a return visit or use temporary crowns.
Another major benefit of going the all-on procedure is that rehabilitation can be done on the small bone tissue without the need of bone augmentation. In other words, you'll only be faced with a minor surgical burden as an all-on solution patient compared to having multiple dental implants on every last tooth missing from your mouth. It's also less prohibitively expensive when push comes to shove because you get to avoid any extra operations, hassle, and healing time. It's the ultimate and practical solution for those who don't want the hassle of putting on and washing removable dentures at their old age.
Thantakit International Dental Center is Thailand's longest established dental center. Situated in Bangkok, our clinic is renowned across the world as a destination for world-class dentistry, with most of our patients flying to us from Australia.
Please contact us today and get a FREE dental consultation.