Special Offer: 10% Discount on Cash Payment
WHAT is INVISALIGN?
Now nearly everyone who needs straighter teeth can be treated with Invisalign
Get the beautiful smile you've always wanted
Invisalign is the invisible way to straighten teeth using a series of custom-made, nearly undetectable aligners. Whether your teeth are crowded, too far apart or have shifted since wearing braces, you'll have a new reason to smile.

The latest technology makes it possible
Upon an initial examination, your accredited orthodontist decides if Invisalign is right for you. Your doctor will write a treatment plan and take an impression of your teeth, which are submitted to Invisalign. Using the latest advances in 3-D computer technology, Invisalign carefully translates your doctor's instructions into series of precisely customized aligners. You then wear each set of aligners for about two weeks, moving your teeth gradually — week by week, millimeter by millimeter — until you've achieved the intended result: straighter teeth.
Generally, you visit your doctor no more often than you would with braces and the length of treatment is about the same.
No braces. Nothing to hold you back
Because there are no metal wires and brackets, Invisalign is comfortable. And because it's removable, eating, brushing and flossing are no problem. You can still enjoy your favorite foods and smile without holding back. With Invisalign, there's nothing to hide.
How does Invisalign compare with other invisible orthodontic systems?
Look at the chart below to see how Invisalign compares to other treatment options. This Invisalign comparison chart is clearly evident that Invisalign outperforms other aligners. When it comes to creating beautiful smiles, Invisalign is the clear winner.
| | | | |
| --- | --- | --- | --- |
| How it work? | INVISALIGN | METAL BRACES | VENEERS |
| | Invisalign uses a series of clear removable aligners to straighten your teeth without metal wires or brackets. | Metal braces use wires and brackets to pressure your teeth into straighter alignment. | Laminates that are bonded to teeth to cover up imperfections. |
| Invisible | Yes | No | N/A |
| Removable | Yes | No | N/A |
| Comfortable | Yes | No | N/A |
| No metal or brackets to irritate your mouth | Yes | No | N/A |
| Does not require grinding to remove tooth enamel | Yes | Yes | No |
| Does not require costly replacement | Yes | N/A | No |
| Able to brush and floss normally during treatment | Yes | No | N/A |
Proven results behind great smiles
In both clinical research and in dental practices throughout North America, Invisalign has been proven effective at straightening teeth. And with many orthodontists across Thailand trained to treat their patients with Invisalign, you can be assured of finding a doctor who's right for you.
Consult with an Invisalign-trained orthodontist today
Only a doctor who has been trained and certified can treat using Invisalign. They will determine if Invisalign is right for you. To locate an Invisalign accredited doctor near you or to find out more information, call us at 0 2718 0777 or visit www.invisalignbangkok.com
Frequently Asked Questions and Answers
Q: How does Invisalign work?
A: Using the latest advances in 3-D computer technology, Invisalign translates your doctor's instructions into a series of nearly undetectable aligners. You wear each set of aligners for about two weeks, moving your teeth millimeter by millimeter until you've achieved the desired result.
Q: Is Invisalign effective?
A: Thousands of doctors are treating patients with Invisalign. It works for a wide range of people whose teeth are too crowded or have spaces between them, as well as for those whose teeth may have shifted after having worn braces in their youth.
Q: How often will I have to wear my aligners?
A: Invisalign only works while you're wearing the aligners. It's recommended that you wear your aligners full-time, day and night, except to eat, brush and floss your teeth — or as directed by your doctor.
Q: How long does Invisalign take?
A: The duration of treatment depends on the severity of your case, which determines the number of aligners you need. However, the average is about 12 months, but only your orthodontist can determine the length of your treatment.
Q: How much does Invisalign cost?
A: As with traditional braces, the cost will be based on the complexity of your case and the length of treatment. Invisalign cost only slightly more than braces and third party finance may also be available to spread the cost over several years. If your dental insurance plan covers traditional braces, it will typically cover Invisalign to the same extent.
INVISALIGN CASES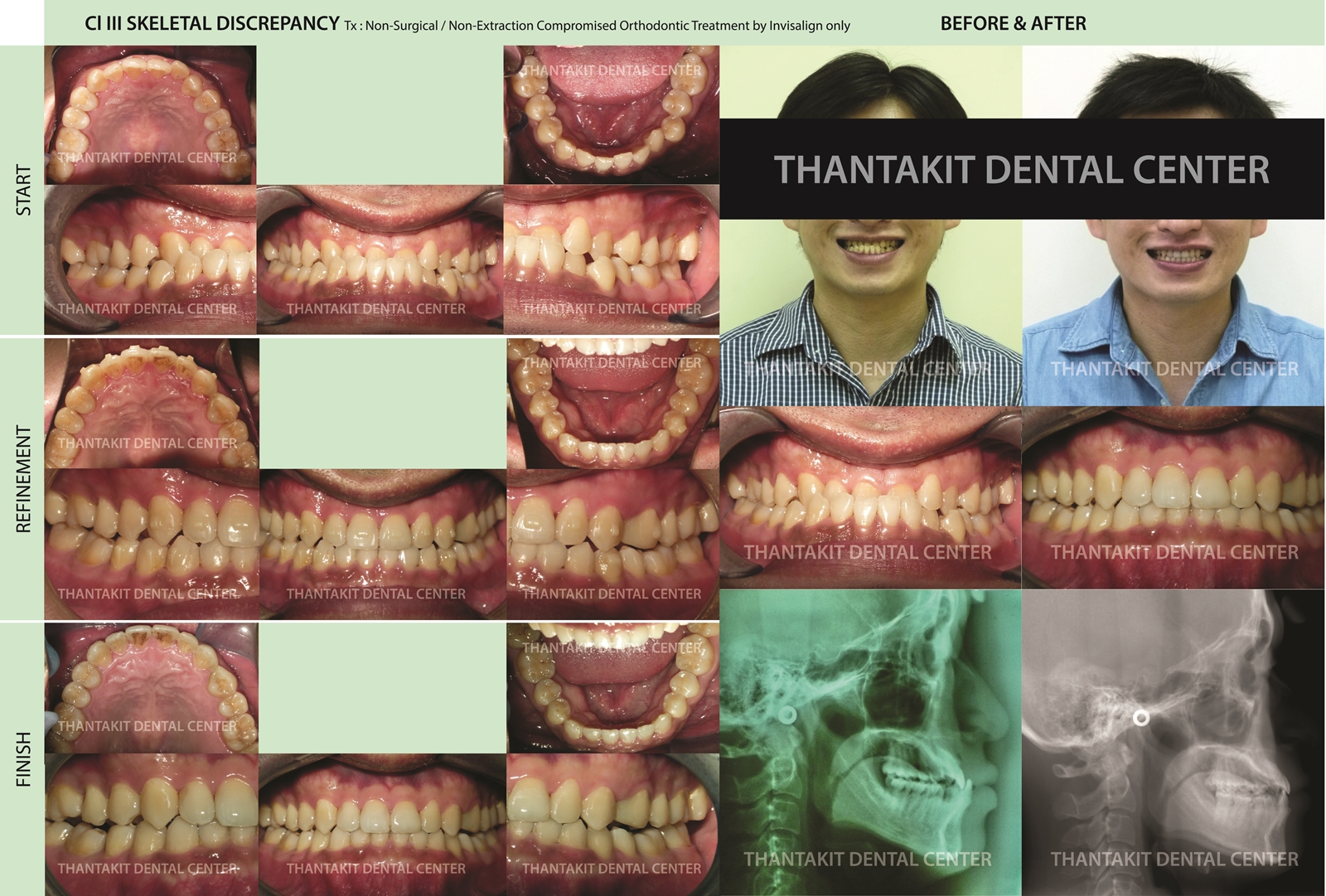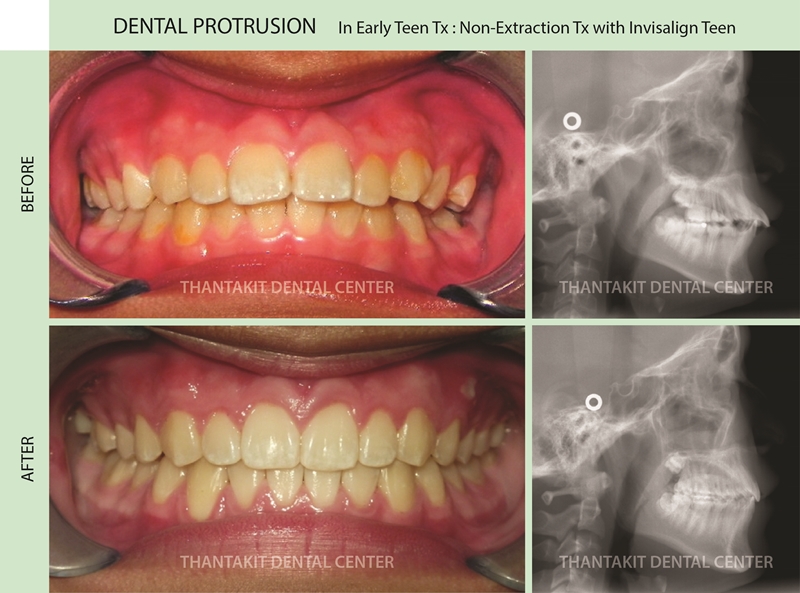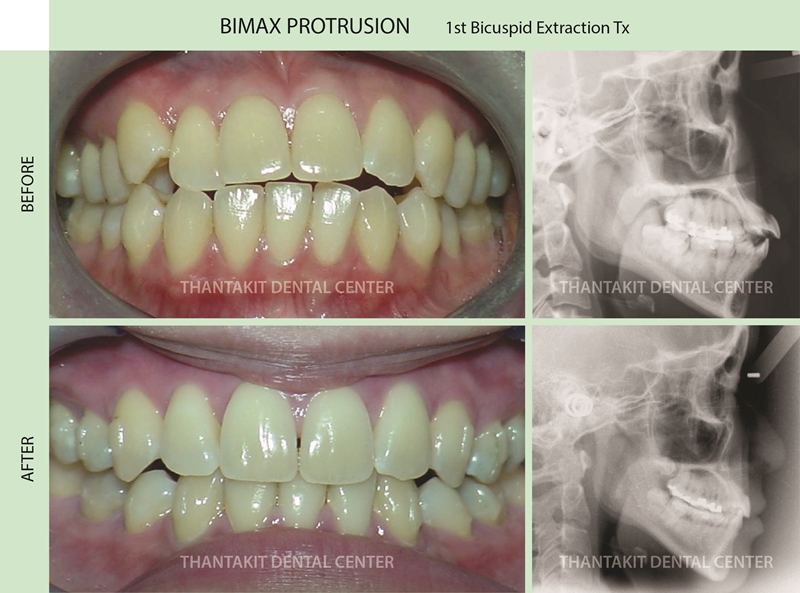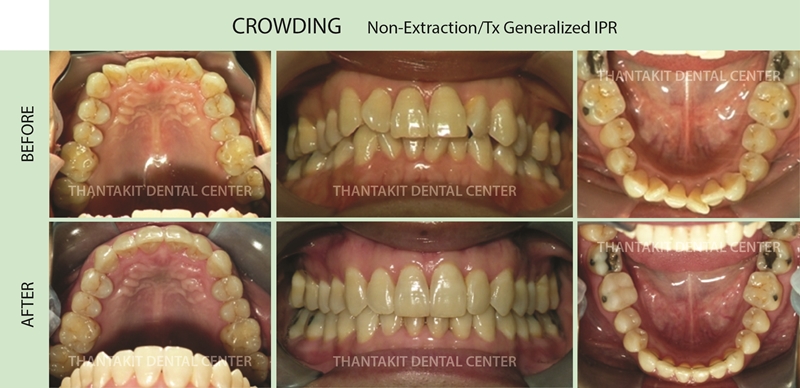 Orthodontics (Braces)
| | |
| --- | --- |
| | THB |
| INVISALIGN | 100,000–250,000 |