Thailand has earned the moniker of "Land of Smiles" not only because of the jolly disposition of its citizens. It's also known for its robust dental and medical tourism economy.
Meanwhile, orthodontics or dentistry that uses braces and retainers in order to straighten out crooked teeth has always been associated with rich children. Only the affluent can afford such a procedure—until now.
Why Go for Thailand Orthodontists?
Thailand orthodontists are dental specialists responsible for recommending and attaching orthodontic appliances like metal braces or INVISALIGN/Invisalign to your mouth as part of a tourism package that includes food and lodging while you're there.
What's not to like about getting high-quality orthodontic procedures then getting the Thailand vacation experience after that's done? It's a win-win for you.
Cost-Effective Across the Board: Thailand orthodontics cost less than average U.S. prices across the board. The only time U.S. prices cost less than Thailand prices is when you compare lowest-quality U.S. orthodontics to the highest-quality Thai orthodontics.

Internationally Trained Experts: The Thantakit Dental Center in particular hires tenured and world-class general practitioner dentists and orthodontics specialists in order to get you quality services at international quality standards.

Insurance Coverage Issues: Some dental plans have coverage for braces, but they're usually limited discounts and you'll still have to pay for many other fees out-of-pocket. This is in contrast to Thailand orthodontic package tours, wherein you'll even get discounts and a Thailand vacation to boot.

Thailand Orthodontic Prices: Thailand braces prices ranges from ฿3,000 ($88) for the cheapest removable retainer to ฿350,000 ($10,324) for Brava by BRIUS orthodontics. Metal braces cost at least ฿50,000 ($1,475).

U.S. Orthodontic Prices: Meanwhile, in the U.S., the cheapest removable retainer is $300 and Brava by BRIUS costs $10,500 to $11,000. Your standard metal braces also cost at least $3,000 or upwards of $7,000 without insurance coverage assistance.

A Wellness Vacation: Thailand is one of the most beautiful pearls of the orient. It's a cosmopolitan paradise with its capital of Bangkok and a biodiversity haven full of natural resources with its islands filled with beaches. It provides you with more reasons to flash your new smile there after your orthodontics procedure.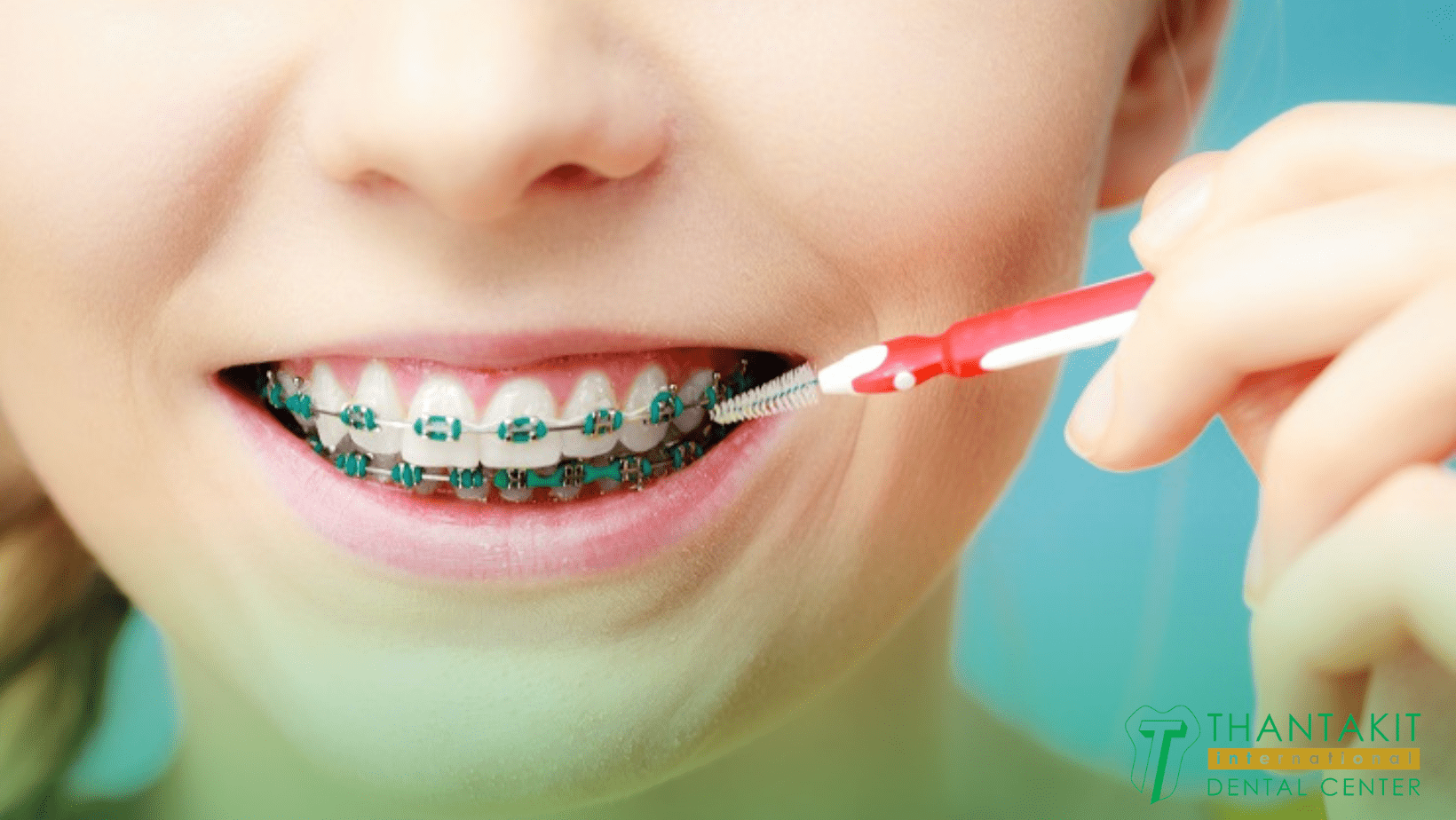 Thailand vs. U.S. Price Ranges for Orthodontics
The main appeal of dental or orthodontic tourism in Thailand is that even when taking travel costs into account, you'll still get huge savings by availing of these services in Southeast Asia as opposed to stateside or local prices.
| Orthodontics Procedure | Thailand Prices (Thantakit) | U.S. Prices (Average) |
| --- | --- | --- |
| Metal Braces | ฿50,000-฿100,000 ($1,475-$2,949) | $3,000-$7,000 |
| Ceramic Braces | ฿70,000-฿100,000 ($2,065-$2,949) | $4,000-$8,000 |
| Damon Speed Braces | ฿100,000-฿160,000 ($2,949-$4,720) | $5,500-$7,000 |
| INVISALIGN Clear Aligners | ฿89,000-฿160,000 ($2,625-$4,720) | $4,000-$7,400 |
| Brava by BRIUS | ฿350,000 ($10,324) | $7,000-$11,000 |
| Removable Retainers | ฿3,000-฿5,000 ($88-$147) | $300-$600 |
| Fixed Retainers | ฿5,000-฿7,000 ($147-$206) | $150-$500 |
You can even get these procedures at even cheaper rates than Thantakit in certain dental training schools or dental hospitals, but usually the service quality isn't as good. The extra quality is worth the extra price for most patients.
Also, even when travel costs plus orthodontics costs will cost you more than paying for local orthodontics out-of-pocket, it doesn't come with a Thailand vacation attached.
Orthodontics in Thailand 101
Orthodontic treatment isn't just using braces to straighten crooked teeth. It also solves issues like irregular bite occlusion (underbites, overbites, scissor bites, and so forth) and related facial abnormalities that can be corrected by proper dental placement.
If you have crowded teeth, huge gaps between teeth, bite issues, and so forth, you can treat such conditions with orthodontic appliances in Thailand.
Thailand dental centers, clinics, and hospitals offer top general practitioners and orthodontist specialists that have been internationally trained and board certified in places like the U.S. and Australia.
Many of them are also dental school graduates from Japan, the United Kingdom, the United States of America, or the European Union.
Standard Braces (Metal or Ceramic)
The most conventional form of orthodontic appliance is the fixed metal braces appliance. As a rule of thumb, braces are best worn between the ages of 9 and 14 or when they're going through puberty. It's harder for adults to adjust their teeth and/or jaw.
When you talk about orthodontics, it's the first thing that comes to mind. They're typically composed of the following parts:
Brackets placed on teeth or their enamel surfaces.

O-ring elastic bands capable of holding titanium wire onto the brackets.

Titanium wire responsible for pulling and binding the brackets together into position.
Metal braces make use of titanium alloys—the toughest metal pound-for-pound—combined with chromium and/or nickel. Ceramic braces, on the other hand, are tooth-colored and blend a little better than metal braces but use the same mechanism.
You'll need monthly visits to the Thailand orthodontist for braces maintenance. In particular, he's responsible for changing the o-ring elastics so that the mechanical forces of your braces remain consistent.
It has the following advantages:
It's easier to chew your food once your jaw has been realigned to have the proper bite.

Realignment of your teeth is a good thing, because straighter teeth are easier to maintain with oral hygiene.

Even in 2023, standard metal braces remain the ideal orthodontic appliance for resolving the majority of cases involving functional occlusion misalignments.
As for disadvantages, it deals with the following.
Metal braces are infamous for being "ugly" or "aesthetically displeasing".

A measure of discomfort is involved with wearing braces that won't let up until it has fixed your orthodontic problem.
It takes metal/ceramic braces an average of 6 months (for simple issues) to 2 years (for complex problems like jaw realignment) in order to correct your issue.
This might mean monthly stops to the Thailand dental center as required. You can also request to have your o-ring elastics color changed every month for aesthetic or personal customization purposes.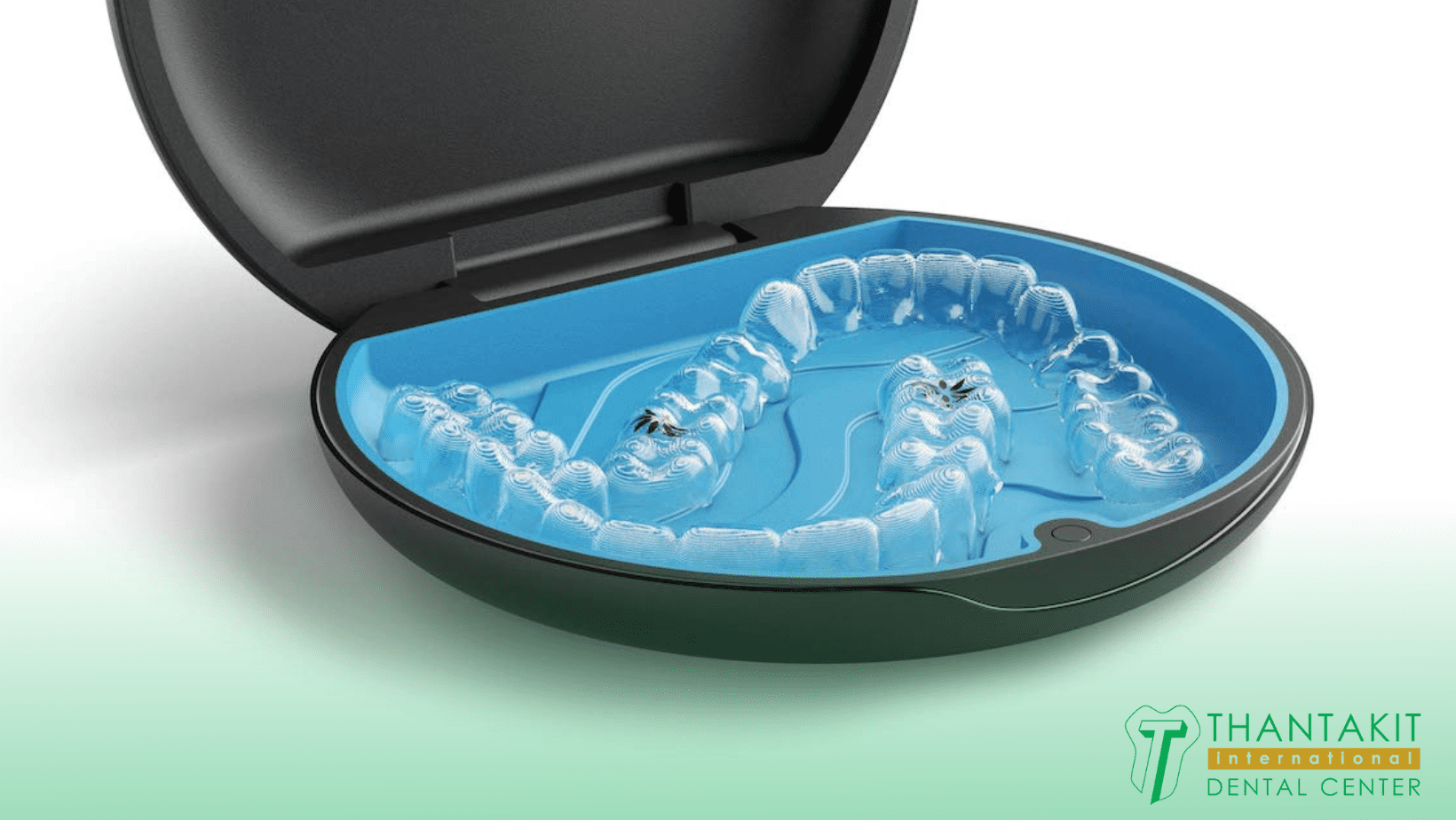 Clear Aligners (INVISALIGN)
Clear braces, also known as tooth-colored braces or clear aligners (the most famous brand of which is Invisalign), offer brackets made of clear plastic. In contrast, tooth-colored ceramic braces camouflage themselves by being the same shade as your teeth.
Clear aligners like INVISALIGN work the same way, except they use clear or see-through brackets to hide themselves and make the appliance less obvious.
It has the following advantages:
Compared to metal braces, it's the more discreet treatment option.

It utilizes multiple aligners or clear plastic trays to go about teeth straightening.

It takes 12 months (1 year) to 18 months (1 year and 6 months) to work. If you're dealing with a simpler case, it might take 6 months instead, like with standard braces.
As for disadvantages, it deals with the following.
It's more expensive than traditional braces, ceramic braces, or even Damon speed braces.

It can't fix every orthodontic condition such as jaw realignment in exchange for it being more discreet than metal braces.
Clear orthodontics braces and o-ring elastics serve as popular aesthetic alternatives to the standard (cheaper) metal braces. They work exactly the same as metal braces mechanics-wise and they're suited for the vast majority of jaw and teeth cases.
Also, unlike standard braces, you can remove or pop out your INVISALIGN clear aligners in order to eat or drink as well as brush and floss your teeth.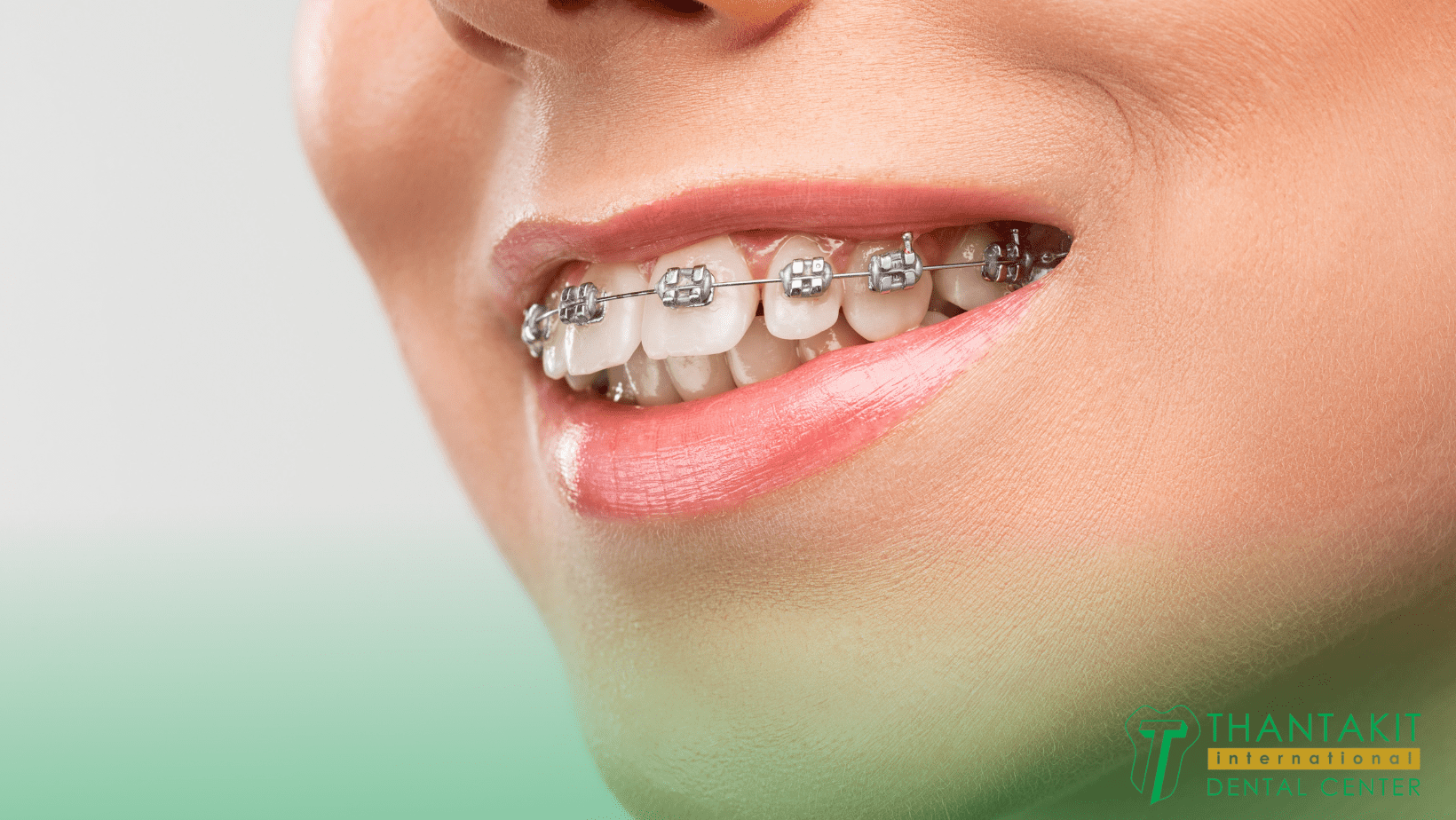 Damon Speed Braces
Damon speed braces work like INVISALIGN clear aligners in many ways. Obviously, it's supposed to work faster than the two years maximum time needed for standard braces to realign your cored teeth.
It's also capable of hiding its presence at first glance, thanks to its tieless self-ligation technology. It's also available in Thailand at a much cheaper price because of the exchange rate and the mostly cost-effective labor costs of their world-class orthodontists.
It has the following advantages:
It can work for 20 months (1 year and 8 months) or less in order to fix most issues.

It's more hygienic than metal braces because it's easier to brush and floss with them.

It uses the same basic mechanism as traditional metal braces, allowing it to fix more conditions like metal braces.
As for disadvantages, it deals with the following.
You'll still have to deal with a measure of discomfort like with metal braces.

INVISALIGN is more discreet and it's just the self-ligating version of metal braces.
Self-ligating braces have a built-in system that secures the archwire to the brackets. They also require occasional tightening like metal braces. Its self-ligating brackets work without the need for uncomfortable elastics.
Damon braces have brackets that aren't obvious to the eye like metal braces to boot. You can even avail yourself of clear or see-through brackets with Damon Speed Braces a la Invisalign's signature look.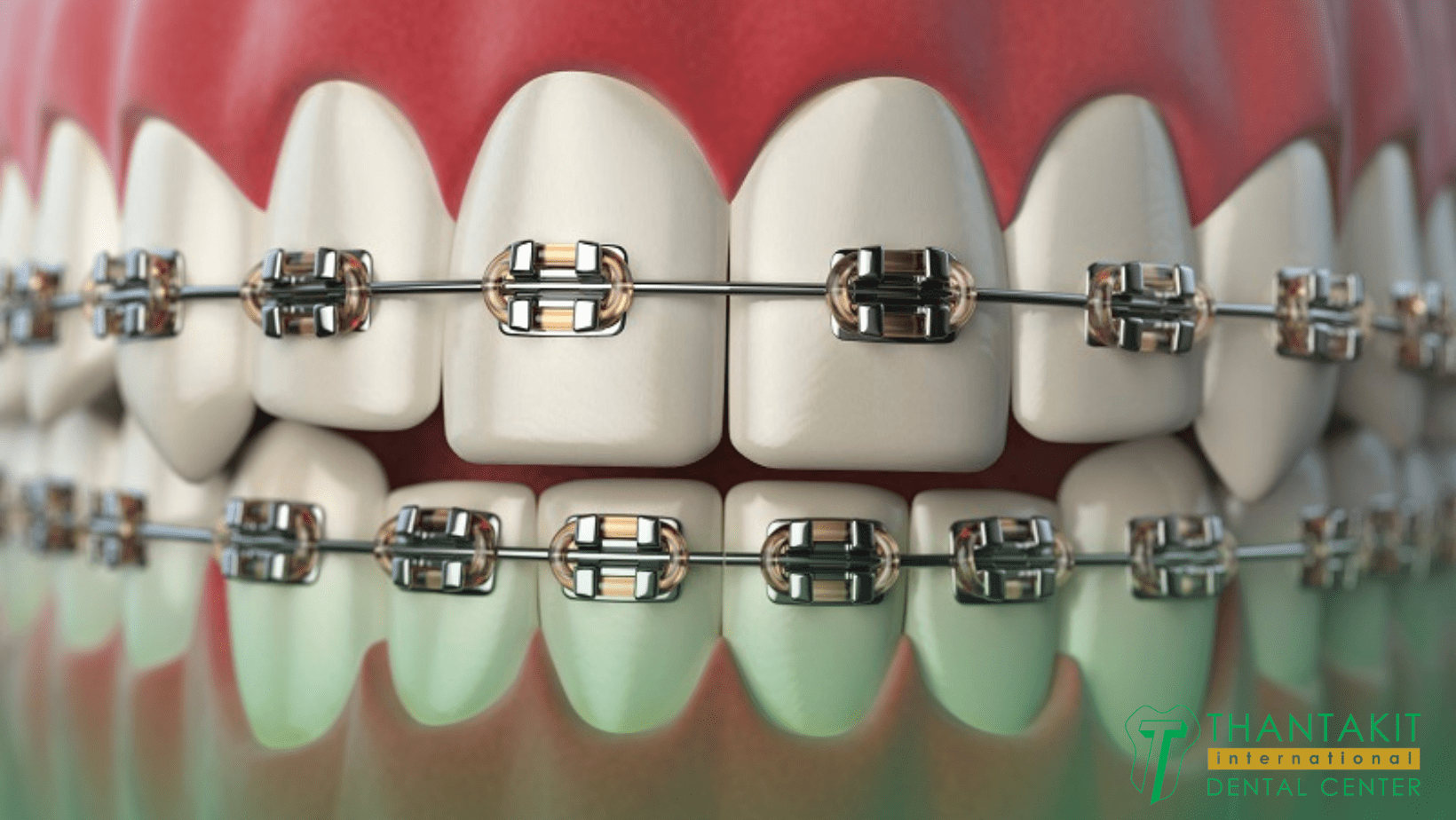 Brava by BRIUS Technologies
Brius® or BRIUS® Technologies is an innovative company that has developed transformative orthodontic technology like Brava. It's mostly famous for its proprietary tech that enables independent movement of each tooth for corrective purposes.
Not Braces. Not Aligners. Independent Movers™: A third alternative to braces and aligners has been developed by Brius. Unlike braces and aligners that get placed on the front of the teeth, these are placed behind the teeth.

Patented Biomechanical Approach: This approach to orthodontic correction moves teeth simultaneously and independently, resulting in faster results that causes less pain compared to standard braces.

Flexible NiTi Arms: The flexible NiTi arms of Brava connect each tooth to a rigid stabilizing bar that balances the appliance onto the lingual vestibule or hard palate of your mouth.

The Best of Both Worlds: You used to have to choose between aesthetics or efficient (and painful) tooth movement. You have to compromise on one to get the other. With Brava by BRIUS, it's possible to get camouflaged yet effective braces.
You can avail of Brava by BRIUS for less than the Thantakit Dental Center's price of ฿350,000 ($10,324). Some clinics offer it with reduced service fees for ฿238,000 ($7,000). It comes with the caveats of no warranty and being done by less skilled dentists who aren't orthodontic specialists.
Brava braces have the following advantages:
It's practically invisible because it's being placed behind the tooth instead of in front of it.

Brius claims treatment time can get cut by half or at least contained within 6 months to a year for even major orthodontic treatments.

It offers a more painless experience with its biomechanical approach of applying just the right amount of force for each individual tooth.
As for disadvantages, it deals with the following.
It's best that you get more standard treatments for minor teeth correction.

It's prohibitively expensive at around $11,000. Even in Thailand, it still costs between ฿238,000 and ฿350,000 ($7,000 and $10,324).
The BRIUS Tech Brava is also expensive because it does more customizations in accordance with patient mouths compared to even standard braces. This allows gradual transformation of your teeth without wearing obvious braces for two years.
A measure of customization is present in all braces, but orthodontists have to customize the very thickness and design of each individual NiTi arm on the Brava appliance to produce optimal force and movement required for every tooth you've got.
Retainers (Fixed vs. Removable)
A fixed or bonded retainer is placed or glued behind the teeth on the tongue side of your front teeth, making them lingual retainers. It's made of stainless steel and is placed behind teeth like Brava braces.
Fixed retainers offer the following advantages.
A fixed retainer, like any lingual orthodontic appliance, is hidden from view.

They also cannot be taken out unless an orthodontist or dentist takes them out.

They're permanently or indefinitely glued to your teeth 24/7, which regularly applies the force needed to straighten them.
They have the following disadvantages in turn.
Fixed retainers are hard to clean and can get food stuck to them regularly.

It's also hard to floss or eat anything hard or crunchy when wearing them.
A removable retainer is highly reminiscent of clear aligners but sans the aligners. You can wear them like see-through custom-fit mouth guards, and you can take them out when eating or brushing your teeth.
Removable retainers offer the following advantages.
There are removable retainers you can customize with cool designs or colors.

These retainers are aesthetically pleasing because they're clear and most people won't notice them on your teeth.

You can brush your teeth and floss as normal as long as you remove the retainers then put them back on when you're done.
They have the following disadvantages in turn.
The retainers require regular daily cleaning themselves, just like your teeth.

You can end up misplacing or losing your retainers if you're not careful exactly because they're removable.
Why Invest in Your Dental Health in Thailand
Certain orthodontic solutions give you a faster turnaround in getting your teeth straightened, your oral hygiene easier to do, and your digestion improved because you can now chew food properly. Some even use the same tech as metal braces while still remaining hidden.
Other orthodontic solutions provide better camouflage and aesthetics when you wear them, but they're limited in the types of orthodontic problems they can fix. It's the choice between wearing metal braces for major jaw realignment for upwards of two years or INVISALIGN for minor fixes in six months or so.
Regardless of which orthodontic service you avail of, you can get a significant discount while vacationing in Thailand by availing of a dental tour in the Land of Smiles.
Thantakit International Dental Center is Thailand's longest established dental center. Situated in Bangkok, our clinic is renowned across the world as a destination for world-class dentistry, with most of our patients flying to us from Australia.
Please contact us today and get a FREE dental consultation.