It's important to choose the right dental implant specialist if you're planning to get dental implants. After all, dental implants are a great investment for both health and esthetic reasons.
However, the process of getting a dental implant can be both physically and financially draining. Therefore, it's important to choose the right dental implant specialist for this investment of a lifetime.
Why You Should Consider a Dental Implant
You may be suffering from gum disease, tooth decay, or tooth injury — or perhaps you've already lost your natural teeth. In all of these cases, getting a dental implant is usually one of the best courses of action.
Whether you're hoping to replace a single tooth, or planning to replace an entire arch through the all on four procedure, getting a dental implant is, no doubt, a major life decision.
But why should you consider getting one?
A dental implant is a medical device that's inserted into a person's jawbones in order to support either an extra tooth, a bridge, or a removable denture. It can be made of titanium, an alloy mixed with titanium, or zirconia. A person's cells become drawn to a dental implant, so that it eventually becomes fused with the person's own body.
A dental implant can protect surrounding natural teeth by enhancing a patient's chewing function. It can also prevent bone resorption, improve biting strength, and ultimately boost people's confidence. On top of those, they look and feel like natural teeth, last long, improve speech, promote oral health, and more. It's not surprising, then, that dental implants are considered by many dentists as the best solution for saving a person's smile.
Your quality of life can be influenced by the quality and quantity of your teeth. Therefore, once you've decided to get a dental implant, you should do your best to entrust your oral health in safe hands, so that the money and time that you'll invest in the process would be well spent.
Since a dental implant involves surgery, you need to find an experienced professional dental implant specialist if you want to have a good experience and great results. Just like any surgical procedure, there are risks and complications associated with getting a dental implant, but a specialist is well equipped in minimizing — if not completely preventing — such incidents.
Choosing the right dental implant specialist can mean the difference between a successful implant and a failed one. This will influence not only your appearance but also your teeth and gums since a failed implant can lead to jawbone damage.
It should be apparent by now that choosing the dentist for your tooth implant is something that you should not take lightly. There are several things you can do to help you make the best decision.
How to Choose an Expert in Dental Implants
In most states in the U.S., any dentist is legally permitted to perform most types of dental surgery (after all, the "DDS" after a dentist's name stands for "Doctor of Dental Surgery"). In spite of this, many general practice and family dentists choose to refer patients in need of dental implants to periodontists or dental surgeons.
Here are the top things you should consider when searching for a dental implant specialist:
1) Specialized training and education
At present, there's no such thing as a dental implant specialist because this specific field has not been designated as a dental specialty. However, there are dentists who have invested a significant amount of their time, money, and energy into gaining the right training and other relevant qualifications related to dental implantology.
Ideally, the dentist you'll choose should have received postgraduate training in dental implant treatments, which can be either a year's course, a diploma, or a master's degree.
But it shouldn't end there: it's essential that the dentist you'll select undergoes continuing education in order to stay updated with the latest trends and techniques in this particular subfield of dentistry. There are rapid technological developments when it comes to different implant procedures, designs, and materials. The right dental implant specialist is one who makes the effort to stay abreast with such changes.
It's best that you conduct research about different dentists' background in performing dental implants. Check out their bio on their website, which will often list their educational background (including specialized training in dental implants), the professional organizations they belong to, and other important information.
You may also find such details on their personal LinkedIn page and/or their clinic's social media pages (such as on Facebook and Instagram). If you still can't find such info online, feel free to call or email their clinic directly to find the answers you need.
2) Extensive experience in dental implants
In the same way that people wouldn't feel comfortable having their brain surgery done by a general practitioner, so should people decline getting their implant done by a general dentist with insufficient background in dental implants.
While we acknowledge that education is absolutely essential, there is simply no substitute for practical experience. So, in addition to having sufficient knowledge and the right training when it comes to implantology, it's crucial for a dental specialist to ideally have at least three to five years of experience in placement.
Finding a certified prosthodontist can be a good starting point in your search for a dental implant specialist. Experienced prosthodontists will have handled hundreds of cases throughout their career. This will give you peace of mind, since they already know exactly what to do to ensure that your surgery is safe and successful.
Having years of experience as an implant specialist enables a dentist to become adept in handling various kinds of treatments and patient cases, while ensuring that the procedure goes as smoothly and stress-free as possible for the patient.
The number of years that a dentist has been performing dental implants is crucial because the learning curve for this particular specialization is quite steep. Every single person has his or her unique dental case, and it takes many years of hands-on experience for a dentist to truly become an expert in this subfield.
Another important thing to look into is your prospective implant specialist's breadth of knowledge when it comes to various types of implants. There are a lot of dentists who are trained in only a single implant system, which limits their knowhow and the choices that they offer to their patients. It's better to look for a specialist in implant dentistry who has conducted a wide range of treatments.
3) Sensible philosophy in providing dental care
Wonderful as they may be, dental implants are NOT a fix-all for oral health issues and are NOT recommended for every patient. As such, the right dental implant specialist would not be overly eager to recommend that you get an implant right away.
Despite dental implants being often considered as the best long-term solution for teeth restoration, the procedure certainly comes with certain risks.
A real dental implant specialist would take the time to carefully examine and discuss all options with each patient when it comes to the ways in which they can restore their teeth, instead of automatically recommending an implant surgery. He or she will guide you in choosing the best treatment you could get, depending on your unique dental needs, oral health, personal preferences, budget, and other factors.
4) Good track record and plenty of positive reviews
Reading past results and testimonials can be very helpful in selecting the right dental implant specialist. The best specialists will have plenty of evidence of their past successes, which can come in the form of before-and-after photos as well as documentation of their patients. Look for these on their website and social media pages, or visit their clinic if you can't find these online.
Also, search for reviews of their patients online to get an idea of the quality of their treatment and care. Obviously, having a lot of negative reviews is a red flag, but so are unbelievably perfect online ratings and reviews — particularly if those are posted on their own site or social media pages, as well as other online pages where anyone can easily post a fake review.
Nobody's perfect, so it's more realistic to find positive as well as (hopefully a few) negative reviews of a dental implant specialist instead of only positive ones. Just take note of the ratio of the good reviews to the bad, and pay attention to what most patients say that the dentist does exceptionally well.
Finally, it can be particularly helpful for you to look for reviews of patients who received a similar treatment to what you're hoping to get, or patients who mentioned having a dental history or case that's similar to yours.
5) Convenient location and relaxing atmosphere
Getting a dental implant typically requires multiple visits to your implant specialist. These visits include your initial consultation, surgery, design and placement of your final implant restoration, and multiple follow-ups. Therefore, it's a good idea to choose a dentist whose clinic is in a safe and convenient location.
You can choose one that's near your area, or opt to travel overseas to receive world-class dental care at an affordable price — and enjoy a relaxing tropical destination at the same time. Renowned international dental centers like Thantakit offer first-rate dental services through highly experienced, well trained, and English-speaking dentists along with friendly and competent staff.
Remember that an implant involves surgery, so it's important to have it done in a place that's peaceful and relaxing for you. This will help lessen your anxieties and stress throughout the entire process.
6) Reasonable cost and flexible payment options
There's no question that dental implants are awesome — but they don't come cheap as well. Naturally, they cost higher than other dental work such as dentures, but keep in mind that you'll likely get what you pay for.
As with many other important things, when it comes to getting a dental implant, "cheaper" does not equate to "better" — and, conversely, "super expensive" does not equate to "best" either. High caliber dental implant specialists and their clinics are usually able to offer competitive rates and flexible payment schemes to patients in need of an implant. They will be able to provide a good ballpark figure (if not the actual total costs) for your dental implant and allow multiple payment options.
They will honor your dental insurance, if you have any. (Keep in mind that most dental insurance policies don't cover dental implants, but some insurers may shoulder 50% of the procedure up to your applicable limits.)
The right dental implant specialist can provide you with a reasonable treatment plan and fee schedule to help you get the implant you need, such as by splitting the total cost into monthly payments to make it better for your budget.
As a final note on costs, it's important that you avoid judging dentists based on their rates alone. Rather, choose a dentist based on the many other criteria that we discussed in this article.
Questions to Ask Your Prospective Dental Implant Specialist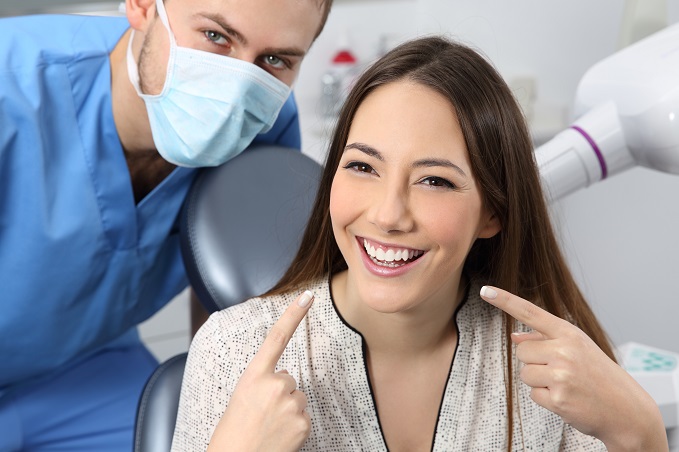 Based on your research on the items listed in this article, you can create a shortlist of top specialists to consider for your dental implant. The next step is to schedule a face-to-face consultation with them in their clinic.
Here are some important questions to ask during your meeting:
1) Around how many dental implants do you perform every year?
– A dental implant specialist will place ideally around 100 or more per year. Implants should comprise a big part of their workload.
2) What is your success rate?
– The success rate of dental implants is quite high at around 95% (according to the Association of Dental Implantology), but this might be lower for less experienced dentists.
3) Around how many bone grafting procedures have you performed?
– A successful dental implant requires that the patient has enough bone in the jaw for implant placement. Patients who need a bone graft need to choose an implant dentist who has the training and surgical experience in bone grafting.
4) Do you offer emergency services?
– For your peace of mind, ask about the specific types of emergency services that the clinic offers in relation to their dental implant procedures.
5) Does your practice offer a warranty for dental implants?
– One of the complications of getting a dental implant is post-surgery irritation and other complications. It's important to be covered by a warranty in case such a complication occurs. It's best to choose a dental practice or specialist who offers a warranty to help protect your investment.
As a side note, offering a warranty is also proof of the confidence of a clinic or specialist in the quality of their dental treatment.
Final Tips in Choosing the Right Dental Implant Specialist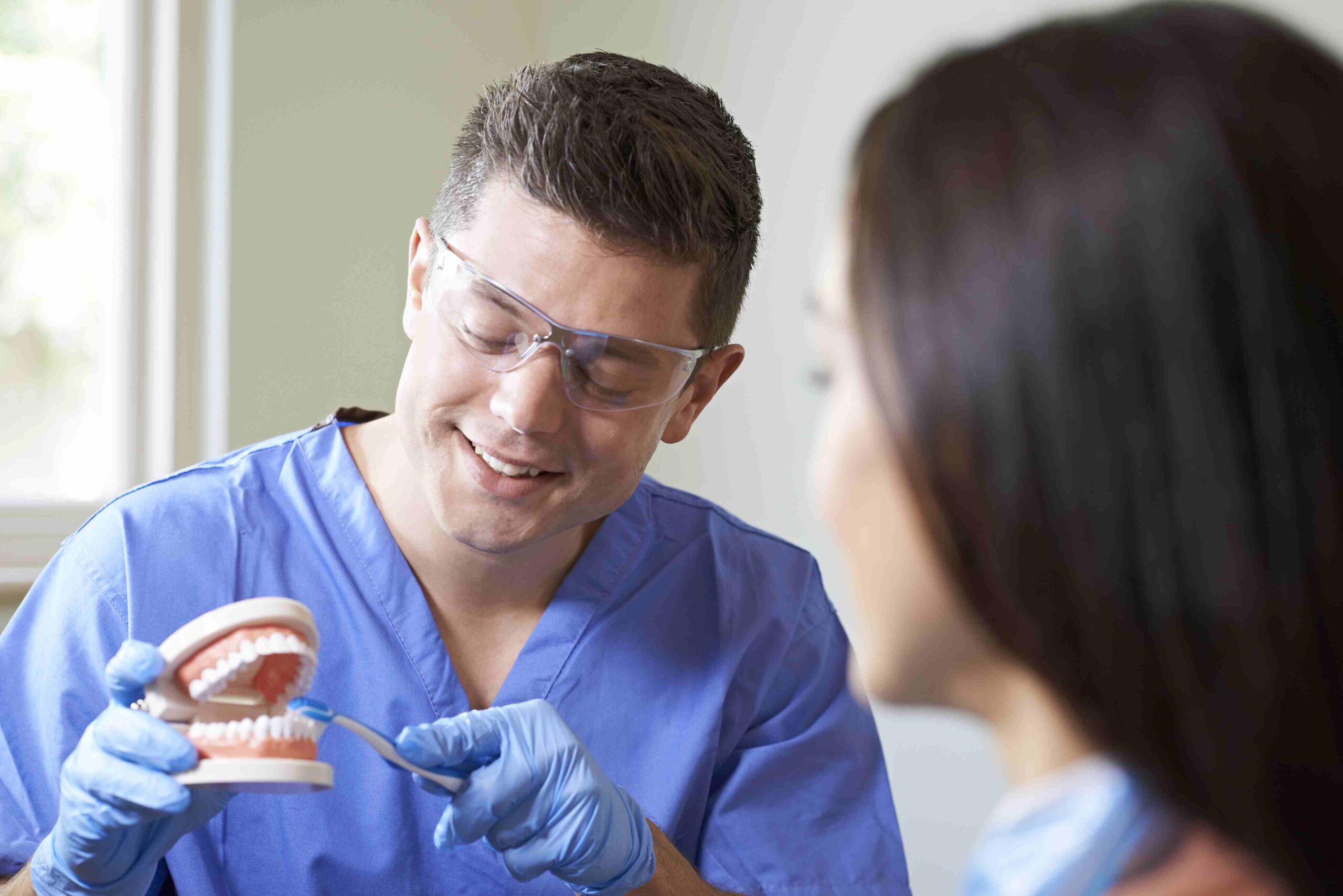 Your prospective dental implant specialist should give you enough information about your implant treatment. The right dental implant specialist should discuss your options, as well as the implant's advantages, disadvantages, limitations, risks, likely outcomes, costs, timelines, and so on. The dentist should also have taken the time to address your concerns (if any) in a helpful and friendly manner.
Take a look at the dentist's (or clinic's) tools and rooms as well. Advanced dentistry technologies can help provide the best quality, optimal comfort, and highest safety standards for your dental implant.
Note the cleanliness of the clinic as well as the work ethics of the dentist and the rest of the staff. Is their professionalism and standard of treatment at par with your expectations? Try to get a feel for their philosophy and practices. It's important that you feel comfortable and confident in their hands before agreeing to have your implant procedure.
If you feel queasy about dental procedures, ask the dentist how he or she can keep you comfortable during the procedure. The right dental implant specialist or clinic usually has special amenities and services to enhance patients' comfort. These can include noise-canceling headphones, televisions, comfortable blankets and pillows, nitrous oxide and oral conscious sedation options, and so on.
Connect With Dental Implant Specialists Today
Are you excited to restore the health and beauty of your smile with superior dental implants?
Thantakit's dental implant specialists tick all the boxes when it comes to delivering functional, captivating, and long-lasting dental implants.
Thantakit International Dental Center is the longest established dental center in Thailand. Located in Bangkok, our clinic is known all over the globe as a top destination for world-class dental services, with the majority of our patients coming from Australia.
Get in touch with us today for a FREE dental consultation.